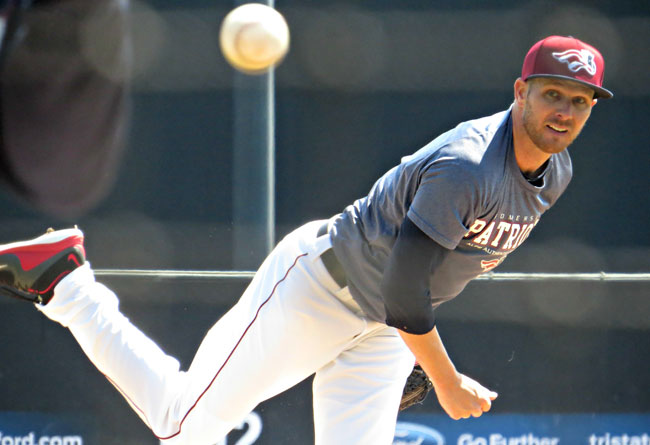 (Bridgewater, N.J., March 28, 2018) - The Somerset Patriots have re-signed Major League right-handed pitcher Ryan Kelly for the 2018 season.

"I had a great time in Somerset last year," said Kelly. "It was a great atmosphere in a great ballpark with great fans. Hopefully we can have more success this year. I am happy to be part of such a good organization."

Kelly enters his second season with the Somerset Patriots and second in the Atlantic League. The former Atlanta Braves reliever yielded just two runs over nine innings with three saves in his 10 relief appearances with the Patriots last year. His contract was purchased by the Seattle Mariners in mid-May, where he split time between Double-A Arkansas and Triple-A Tacoma for the rest of 2017. There, Kelly combined to post a 2.97 ERA with six saves and 32 strikeouts over 30.1 innings of relief.

The Bluffton, South Carolina resident appeared in 17 games in the big leagues with the Braves in 2015, striking out 10 batters over 16.2 innings of work. Kelly earned his 2015 promotion after he posted a 3-1 record with a 0.95 ERA and 13 saves in 24 appearances with Triple-A Gwinnett earlier that season. Additionally, Kelly began the 2015 campaign with Double-A Mississippi where he recorded nine saves and tossed 17.2 innings without allowing an earned run (0.00 ERA).

"Kelly got off to a hot start out of our pen last year and was rewarded by the Mariners organization," said Somerset Patriots manager Brett Jodie. "He has electric stuff and can fill many roles in the bullpen. Ryan is a guy that can get hot and be very difficult on opposing lineups. We have seen it with his numbers in the past and got a chance to see it in person with our team last year. We are happy to welcome Ryan back to our bullpen."

Kelly began his professional career in the Pittsburgh Pirates organization. Kelly spent his first four seasons with the Pirates before he was traded three times during his fifth season, eventually landing with the San Diego Padres. There, he earned a promotion to Triple-A Tucson in both 2012 and 2013 after he posted a 4-1 record with a 2.66 ERA over 39 relief appearances with Double-A San Antonio in 2012.

The Walters State Community College alum owns a 24-23 record with a 3.80 ERA and 64 saves over 319 appearances (17 starts) over 10 seasons of service in minor league baseball.

The Somerset Patriots led the Atlantic League in attendance and made their 14th appearance in the playoffs last season. The Somerset Patriots will welcome their 7,000,000th fan in their 20th season at TD Bank Ballpark in 2018. Tickets are now on sale for the 2018 Season presented by Ford beginning at home on Friday, April 27th. For more information, please visit www.somersetpatriots.com.

About The Atlantic League of Professional Baseball (ALPB)

The Atlantic League has been a leader in professional baseball and a gateway to Major League Baseball since 1998. Over 38 million fans have attended Atlantic League games and more than 900 players and 50 managers and coaches have joined MLB organizations directly from the ALPB. The Atlantic League emphasizes winning baseball games, showcasing the talent of top-caliber players and offering affordable family entertainment.

For more information, please visit www.atlanticleague.com.

###