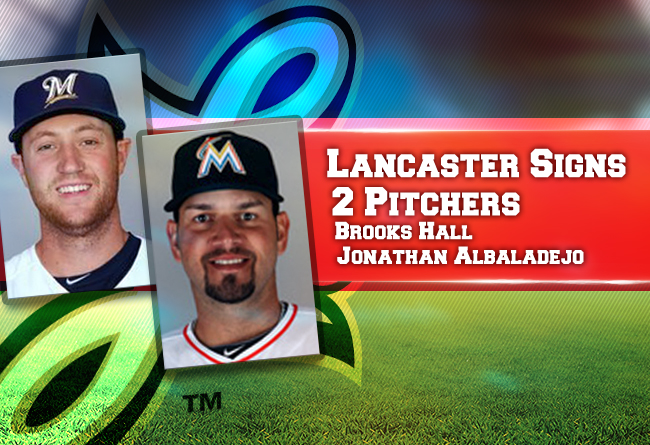 Barnstormers also add right-hander Brooks Hall

(Lancaster, Pa., Feb. 26, 2018) - The Lancaster Barnstormers have signed former Atlantic League Pitcher of the Year Jonathan Albaladejo along with veteran right-handed pitcher Brooks Hall, it was announced today by manager Ross Peeples.

With the signings, the Barnstormers have 21 players on their roster with seven weeks left until the beginning of spring training. The club has 12 pitchers and nine position players.

Albaladejo, 35, spent the last two seasons with the Bridgeport Bluefish but was picked up by the Barnstormers in last fall's player draft upon the dissolution of the Bridgeport franchise.

The right-hander went 15-6 for the Bluefish in 2016, setting the league record for strikeouts (164) in the process. He walked only 34 that season in 28 starts, covering 172.2 innings. His ERA for the year was 4.07.

He returned to Bridgeport last season and was 7-6 on the year with a 4.44 ERA in 16 starts. He joined the New York Mets organization in late July, finishing the year with Class AAA Las Vegas, where he was 2-4. Albaladejo fired a complete game in his final start of the season on Labor Day.

After signing with the Pittsburgh Pirates in 2001, Albaladejo reached the Major Leagues with the Washington Nationals in 2007, appearing in 14 games and yielding only seven hits and two walks in 14 1/3 innings. The 6'5" right-hander went to the New York Yankees following that season and spent a portion of the next three years with the big league club.

His most recent stint in the Major Leagues came in 2012 when the native of Puerto Rico appeared in three games for Arizona. Overall, he is 6-3 with a 4.34 in 66 big league appearances.

In addition, he saved 43 games for Class AAA Scranton/Wilkes-Barre in 2010 and 25 more for Class AAA Reno in 2012.

"Albaladejo is a veteran that has been great in our league," said Peeples. "He can go deep into games and just knows how to pitch. We will also depend on him to be one of the leaders in our locker room."

Hall, 27, comes to the Atlantic League for the first time. The right-hander from Anderson, SC signed with Milwaukee in 2009 as their fourth round pick in that year's draft. He reached Class AAA Colorado Springs by 2016 and pitched briefly in Class AAA with Reno (Arizona) last season.

Overall, he has made 100 minor league starts in 157 total appearances. Hall has walked only 194 hitters in 624.1 career innings with a 36-35 record.

"Hall has been a teammate with several of the guys who have played here before," said Peeples. "I have heard nothing but great things about him. We are going to rely on him to be a starter that can go deep into games."

About the Lancaster Barnstormers

The Lancaster Barnstormers have completed their thirteenth season as a member of the Atlantic League of Professional Baseball. Home games are played at Clipper Magazine Stadium in downtown Lancaster, Pennsylvania. Please call 717.509.HITS (4487) or visit www.lancasterbarnstormers.com for more information.

About the Atlantic League of Professional Baseball (ALPB)

The Atlantic League has been a leader in professional baseball and a gateway to Major League Baseball since 1998. Over 38 million fans have attended Atlantic League games and more than 900 players and 50 managers and coaches have joined MLB organizations directly from the ALPB. The Atlantic League emphasizes winning baseball games, showcasing the talent of top-caliber players and offering affordable family entertainment.

For more information, please visit www.AtlanticLeague.com.

###