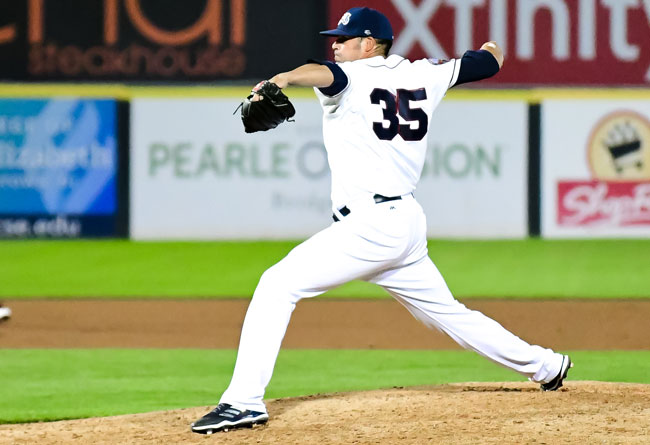 (Bridgewater, N.J., Feb. 23, 2018) - The Somerset Patriots have re-signed Major League right-handed pitcher Dustin Molleken for the 2018 season.

"I really enjoyed my time in Somerset last year," said Molleken. "I'm really looking forward to rejoining the team. It is a great place to play and the fans are incredible!"

Molleken enters his second season with the Somerset Patriots and second in the Atlantic League. The former big leaguer went 3-2 with three saves over 26 relief appearances with the Patriots last year. He also struck out 28 batters against 11 walks over 23.2 innings pitched and only allowed a run in seven of his 26 appearances.

Additionally, Molleken enjoyed a notable stretch from August 25th through September 4th where he tossed six-straight scoreless relief appearances without allowing a single baserunner (18-straight batters retired). He also tossed two shutout innings of relief in the postseason.

The Regina, Canada native made his Major League debut on July 4, 2016 for the Detroit Tigers. He appeared in four games with the Tigers that year (all in relief), striking out eight batters over 8.1 innings pitched. Molleken followed up 2016 with a 2.76 ERA over 13 relief appearances with Triple-A Toledo to begin 2017 before he joined the Patriots.

"Anytime you can add a fierce competitor on the field and a guy everyone loves in the clubhouse, you do it," said Somerset Patriots manager Brett Jodie. "Dustin is a power arm who has had success at all levels of baseball. He wants the ball in his hands every game and we are happy to give it to him. Molleken wants to be involved and help the team win each and every night. He is also a guy people gravitate towards in the clubhouse and we are proud to have him back."

Originally a 15th round draft pick of the Pittsburgh Pirates in 2003, Molleken has also spent time in the Colorado Rockies, Milwaukee Brewers, Cleveland Indians, and Tigers organizations. He has pitched almost exclusively at the Triple-A level for each of the six seasons prior to joining Somerset. The 6'4" righty is 17-10 with a 4.14 ERA and 268 strikeouts over 200 appearances (nine starts) at the Triple-A level.

The Somerset Patriots led the Atlantic League in attendance and made their 14th appearance in the playoffs last season. The Somerset Patriots will welcome their 7,000,000th fan in their 20th season at TD Bank Ballpark in 2018. Tickets are now on sale for the 2018 Season presented by Ford beginning at home on Friday, April 27th. For more information, please visit www.somersetpatriots.com.

About The Atlantic League of Professional Baseball (ALPB)

The Atlantic League has been a leader in professional baseball and a gateway to Major League Baseball since 1998. Over 38 million fans have attended Atlantic League games and more than 900 players and 50 managers and coaches have joined MLB organizations directly from the ALPB. The Atlantic League emphasizes winning baseball games, showcasing the talent of top-caliber players and offering affordable family entertainment.

For more information, please visit www.atlanticleague.com.

###