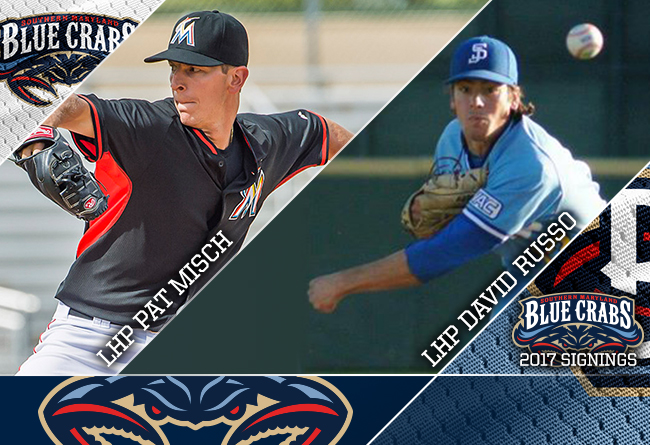 Blue Crabs add lefties to pitching staff

(Waldorf, Md., March 30, 2017) – The Blue Crabs announced the signing of two left-handed pitchers, Pat Misch and David Russo, further bolstering the 2017 pitching staff in the team's 10th anniversary season.

Pat Misch made his MLB debut in 2006 with the San Francisco Giants. The 35-year-old southpaw spent parts of six seasons in the majors with the Giants and the New York Mets, pitching in 78 career MLB games. Misch made his Atlantic League debut in 2015 with the Lancaster Barnstormers, spending one month with the team before moving to Taiwan. While pitching in Taiwan for the Lamigo Monkeys, Misch threw a no-hitter in Game 7 of the 2015 Taiwan Series to win the championship.

David Russo made his professional debut in the 2014 season with the Vallejo Admirals of the Pacific Association. Russo finished 2014 and spent all of 2015 with the Rockford Aviators of the Frontier League, pitching in 54 games for the team. Russo spent the 2016 season in the American Association, as a member of the Texas AirHogs. He finished 2016 with a 4.28 ERA and 52 strikeouts in 35 games with the team.

"We're very happy with the signings of both Misch and Russo," said Manager John Harris. "Misch gives us a reliable lefty we can add to the rotation, while Russo brings a different look out of the bullpen from the left side as well."

The team opens up the 2017 season on April 20th in Waldorf versus the Long Island Ducks. The team kicks off its 10th Anniversary season with Crustacean Celebration presented by Elite Beatz on April 8th. To save your seat at the ballpark for the upcoming season and other team news, visit www.somdbluecrabs.com or call 301-638-9788.

About the Southern Maryland Blue Crabs

The Blue Crabs play 140 regular season games in the Atlantic League of Professional Baseball Clubs. The Blue Crabs play at Regency Furniture Stadium in Waldorf, Maryland with affordable family fun. The franchise will open its tenth anniversary season on Thursday April 20, 2017. Please call 301-638-9788 or visit http://www.somdbluecrabs.com for more information and to reserve your seat at the ballpark today!

About the Atlantic League of Professional Baseball (ALPB)

The Atlantic League has been a leader in professional baseball and a gateway to Major League Baseball since 1998. Over 36 million fans have attended Atlantic League games and more than 800 players and 50 managers and coaches have joined MLB organizations directly from the ALPB. The Atlantic League emphasizes winning baseball games, showcasing the talent of top-caliber players and offering affordable family entertainment to metropolitan markets serving nearly 15% of the US population.

For more information, please visit www.AtlanticLeague.com.

###