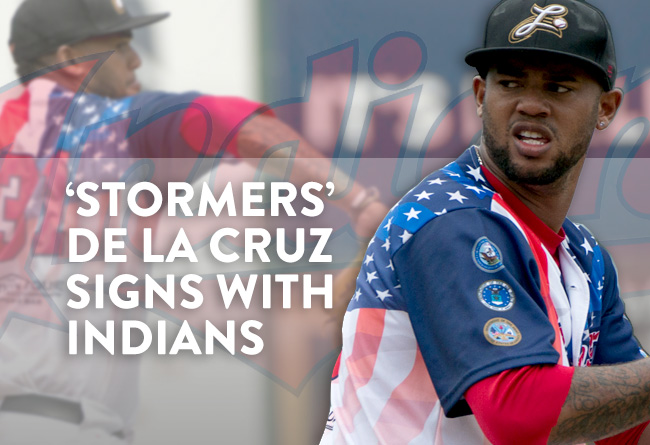 Lefty becomes fifth Barnstormer to return to big league system for '17

(Lancaster, Pa., Jan. 30, 2017) - Left-hander Kelvin De La Cruz has signed with the Cleveland Indians organization, it was announced this week in trade publication Baseball America.

De La Cruz, 28, makes a return to his first organization. The southpaw was a member of the Cleveland farm system from 2006-2011 and was a 12-game winner between the Class A and Class AA levels in 2008. He would later pitch in the Detroit, LA Dodger and Baltimore systems, reaching Class AAA in both the 2013 and 2014 campaigns.

The native of the Dominican Republic first came to the Atlantic League as a Somerset Patriot in 2015 and opened last season with York. He was only 3-6 with the Revolution but, following a trade for center fielder Travis Witherspoon in late June, De La Cruz went 6-3 with a 3.46 ERA in 11 starts and two relief appearances for the Barnstormers. With Lancaster, the lefty walked only 12 batters in 67 2/3 innings. He walked more than two in a start only once as a Barnstormer.

"It's not surprising with what he did for us," said manager Ross Peeples. "He got better and better every start and by the end, he was one of our best."

De La Cruz becomes the fifth player from the club that finished the 2016 season in Lancaster to sign with a Major League team this off-season. Todd Burns (Mets), Caleb Gindl and K.C. Hobson (White Sox), and Sean Halton (Tigers) have also been picked up.

Six players off the 2015 squad were signed by Major League organizations last winter. Of those, five continue to play in big league systems, heading into the 2017 campaign.

About the Lancaster Barnstormers

The Lancaster Barnstormers are entering their thirteenth season as a member of the Atlantic League of Professional Baseball. Home games are played at Clipper Magazine Stadium in downtown Lancaster, Pennsylvania. Please call 717.509.HITS (4487) or visit www.lancasterbarnstormers.com for more information.

About the Atlantic League of Professional Baseball (ALPB)

The Atlantic League has been a leader in professional baseball and a gateway to Major League Baseball since 1998. Over 36 million fans have attended Atlantic League games and more than 800 players and 50 managers and coaches have joined MLB organizations directly from the ALPB. The Atlantic League emphasizes winning baseball games, showcasing the talent of top-caliber players and offering affordable family entertainment to metropolitan markets serving nearly 15% of the US population.

For more information, please visit www.atlanticleague.com.

###