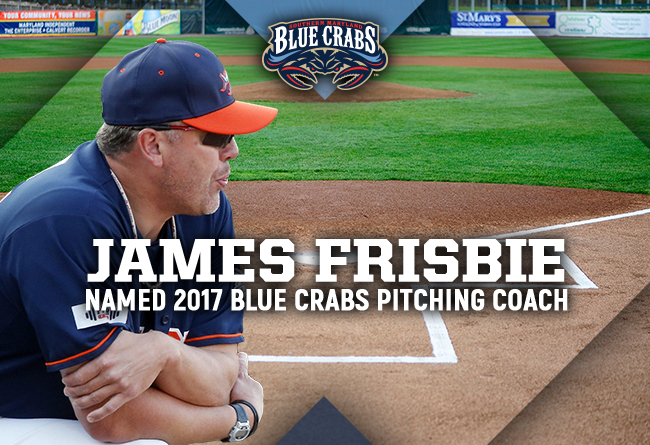 Blue Crabs announce 10th Anniversary Season pitching coach

(Waldorf, Md., Jan. 13, 2017) - The Southern Maryland Blue Crabs announced on Friday the hiring of James Frisbie as Pitching Coach for the 2017 season. Frisbie joins the Blue Crabs after managing the Texas Air Hogs of the American Association in 2016.

"The Blue Crabs are extremely excited to welcome James to Crustacean Nation," said Courtney Knichel, General Manager of the Southern Maryland Blue Crabs. "His vast experience in baseball over his career will make a welcome addition to our baseball family."

The 44-year-old left-handed pitcher was signed by the Alexandria Aces in the Texas-California League in 1998. Frisbie was on staff with the Rio Grande Valley White Wings, the Jackson Senators of Central Baseball League and with the Chillicothe Paints in the Frontier League. In 2013, Frisbie was named the team manager for the Rockford Aviators and was the manager for the 2015 Frontier League All-Star game.

"I'm thrilled for the opportunity to work with John and the Blue Crabs," said Frisbie. "The talent that we have the chance to work with is exciting. I'm looking forward to spring and getting ready for the 10th anniversary season."

"James has worked with many pitchers with various teams throughout independent baseball," said Blue Crabs manager John Harris. "His experience will help elevate our ball club and pitching staff. We're very excited to have him on board."

About the Southern Maryland Blue Crabs

The Blue Crabs play 140 regular season games in the Atlantic League, considered the highest level of minor league baseball, and play their home games at Regency Furniture Stadium in Waldorf, Maryland. The franchise will look to open its 10th season on Thursday April 20th, 2017. Please call 301-638-9788 or visit www.SOMDbluecrabs.com for more information and to reserve your seat at the ballpark today!

About the Atlantic League of Professional Baseball (ALPB)

The Atlantic League has been a leader in professional baseball and a gateway to Major League Baseball since 1998. Over 36 million fans have attended Atlantic League games and more than 800 players and 50 managers and coaches have joined MLB organizations directly from the ALPB. The Atlantic League emphasizes winning baseball games, showcasing the talent of top-caliber players and offering affordable family entertainment to metropolitan markets serving nearly 15% of the US population.

For more information, please visit www.AtlanticLeague.com.

###