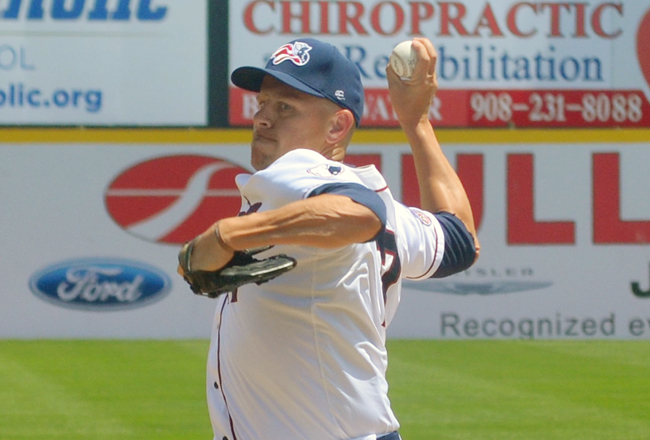 (Bridgewater, N.J., Jan. 4, 2017) - The Somerset Patriots have announced that right-handed pitcher Jim Miller has been signed by the Minnesota Twins.

In 26 games for Somerset last season, Miller didn't allow an earned run over 25 innings pitched. He finished the season 1-0 with a 0.00 ERA and 24 strikeouts. The Somerset Patriots were 20-8 in games in which Miller appeared.

"Jim had a tremendous season with us and we knew it was just a matter of time until he got this opportunity. To not allow a single earned run in 26 games with the competition he faced in the Atlantic League just shows the type of pitcher he is," said Somerset Patriots Manager Brett Jodie. "We are all very happy for Jim. It couldn't have happened to a more deserving, hard-working guy and we wish him the best of luck with the Twins."

He owns five seasons of Major League service, most recently with the New York Yankees in 2014. Miller, who also played in the big leagues with the Baltimore Orioles, Colorado Rockies, and Oakland A's, has amassed a 3.48 ERA in 67.1 innings of work at the Major League level.

Miller began last season with the Triple-A Colorado Springs Sky Sox and recorded 19 strikeouts in 17 innings of work.

In 2015, Miller had a 4-3 record, a 2.91 ERA and 65 strikeouts in 74.1 innings pitched at Triple-A Durham.

The Randolph, New Jersey native began his career in the Rockies organization. Miller was named an All-Star in his first three seasons of professional baseball with the Rockies.

Miller then joined the Orioles organization, with a majority of his service played with the Triple-A Norfolk Tides.

Over the next four years, Miller played in the Rockies, Athletics, Yankees and Tampa Bay Rays organizations. He has a minor league career 3.51 ERA in 553 games played.

Miller is the seventh member of the 2016 Somerset Patriots team to join a Major League organization. Starting pitcher Darin Gorski (New York Mets) along with relief pitchers Gus Schlosser (Los Angeles Dodgers) and Brandon Sisk (Seattle Mariners) all had their contracts purchased earlier this season. Left-handed pitcher Nik Turley (Minnesota Twins), infielder David Vidal (Miami Marlins) and right-handed pitcher Alexis Candelario (Los Angeles Dodgers) were all signed earlier this offseason.

The Somerset Patriots led the Atlantic League in attendance in 2016, finished with the best regular season record in the league and made their fourth straight trip to the playoffs. The schedule for the 2017 season, which includes the team's 20th Anniversary and the 2017 Atlantic League All-Star Game at TD Bank Ballpark, has been released. For more information, stop by TD Bank Ballpark, call (908) 252-0700, or visit www.somersetpatriots.com.

About The Atlantic League of Professional Baseball (ALPB)

The Atlantic League has been a leader in professional baseball and a gateway to Major League Baseball since 1998. Over 36 million fans have attended Atlantic League games and more than 800 players and 50 managers and coaches have joined MLB organizations directly from the ALPB. The Atlantic League emphasizes winning baseball games, showcasing the talent of top-caliber players and offering affordable family entertainment to metropolitan markets serving nearly 15% of the US population.

For more information, please visit www.atlanticleague.com.

###