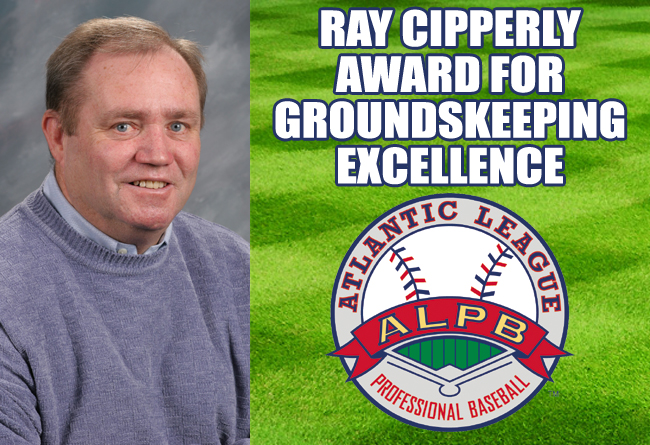 ALPB honors long-time Somerset Patriots groundskeeper

(Denver, CO, Oct. 17, 2016) – The Atlantic League of Professional Baseball today announced that its annual groundskeeping award has been renamed to honor former Somerset Patriots groundskeeper Ray Cipperly. The award will be known as the "Ray Cipperly Award for Groundskeeping Excellence" from this point forward.

"Fans always recall the verdant green of a baseball diamond; for players, a well-manicured field is critical to their performance," said Atlantic League President Rick White. "TD Bank Ballpark's field has always been widely admired throughout the league, and all of professional baseball, due to Ray and his team's tireless efforts."

The Ray Cipperly Award for Groundskeeping Excellence honors the club groundskeeper and crew who consistently provide a superior playing surface and environment, despite circumstances outside their control. This includes weather, field traffic, financial resources and non-baseball events.

Cipperly, who passed away on October 11, 2015 after a courageous battle with cancer, was the Somerset Patriots' first-ever groundskeeper. He held the position from 1998 through 2010 and set a Major League standard for the field that continues today. Somerset Patriots Chairman Steve Kalafer dubbed Cipperly a "compulsive perfectionist" and noted that former Major Leaguers Joe Torre and Don Zimmer raved about the field's condition upon visiting TD Bank Ballpark.

"This is a well-deserved honor for Ray and the Cipperly family," noted Kalafer. "It will help keep his memory alive and recognize his many contributions to the Somerset Patriots and the Atlantic League."

The Atlantic League will announce its inaugural recipient of the Ray Cipperly Award for Groundskeeping Excellence on Thursday, October 20.

About The Atlantic League of Professional Baseball (ALPB)

The Atlantic League has been a leader in professional baseball and a gateway to Major League Baseball since 1998. Over 36 million fans have attended Atlantic League games and more than 800 players and 50 managers and coaches have joined MLB organizations directly from the ALPB. The Atlantic League emphasizes winning baseball games, showcasing the talent of top-caliber players and offering affordable family entertainment to metropolitan markets serving nearly 15% of the US population.

For more information, please visit www.atlanticleague.com.

###