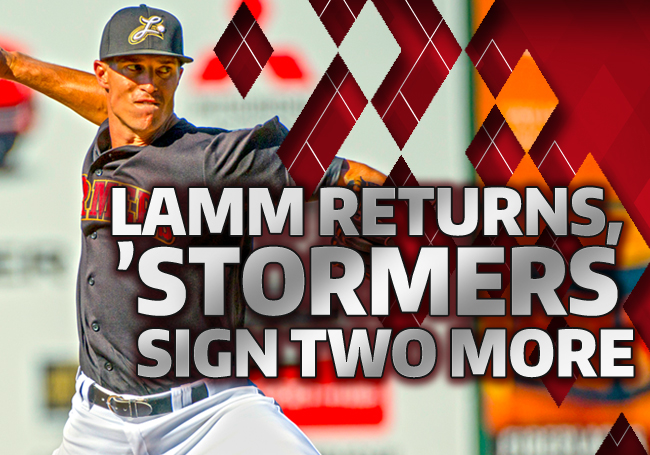 Right-handers Burns and Lamm added to Bullpen

(Lancaster, Pa., March 15, 2016) - Second baseman Jeff Kobernus, who reeled off 137 stolen bases in a span of three seasons while developing in the Washington Nationals organization, has been signed by the Lancaster Barnstormers for the 2016 season, the club announced today.

In addition, the Barnstormers have announced the return of right-handed reliever Mark Lamm, who originally joined the club for in August, 2015 during Lancaster's push toward a second half Freedom Division title, and the signing of right-hander Cory Burns.

Kobernus, 27, won stolen base titles for Potomac in the Carolina League in 2011 and in the Eastern League with the Senators in 2012. The following year, he again stole 42 for Syracuse, finishing second in the International League, only behind Cincinnati Reds stolen base king Billy Hamilton.

The right-handed batter hit .282 in the first two of those seasons and then got to the big leagues with the Nationals in 2013, the same season in which he hit at a .318 clip for Syracuse, good for seventh in the International League.

Kobernus has 28 Major League games under his belt between the 2013 and 2014 seasons. His lone home run was hit off Philadelphia's Cliff Lee in a 5-2 Phillies' win on June 18, 2013.

"He is a guy the Nationals moved from second base to the outfield, and he wants to go back to his original position," said bench coach and baseball operations manager Ross Peeples. "He is also a guy who will bring speed to our lineup."

Lamm, 28, signed with the Atlanta Braves out of Vanderbilt University out of the 2011 draft. The relief specialist reached Class AAA in 2013, going 3-3 with a 3.63 ERA in 18 games for Gwinnett County. That same year, he saved 10 games with Class AA Mississippi with a 2.56 ERA in 35 games.

After beginning last season with Mississippi and posting a 2.93 ERA in 29 games, Lamm came to Lancaster, August 11. He appeared in 18 games for the Barnstormers, allowing only 14 hits and five walks in 19.1 IP. His ERA was 1.40.

"Lamm came in and pitched very well for us last year," said Peeples. We are hoping that he can pick up where he left off."

Burns, 28, has logged time in the Major Leagues with both Texas and San Diego. He went 0-1 with a 5.50 ERA in 17 appearances for the Padres in 2012 and 1-0 with a 3.18 ERA while working for the Rangers in 2013.

The Phoenix native spent the first three seasons of his career with the Cleveland Indians organization, logging 88 saves. He nailed down a Class A Carolina League-leading 30 of those with Kinston in 2010 and 35 more with Akron in 2011, garnering Relief Pitcher of the Year honors in the Class AA Eastern League.

He also recorded 20 saves for Class AA Round Rock in 2013, posting a 2.15 ERA in the process.

In 2014, Burns moved from the Rangers to the Tampa Bay Rays. He was picked up by the Toronto Blue Jays and went 2-5 for Class AA New Hampshire last season.

"His numbers show that he is an experienced back end of the bullpen guy and someone we have to look at as a potential closer," said Peeples.

The Lancaster Barnstormers are entering their twelfth season as a member of the Atlantic League of Professional Baseball. Home games are played at Clipper Magazine Stadium in downtown Lancaster, Pennsylvania. Please call 717.509.HITS (4487) or visit LancasterBarnstormers.com for more information.

About the Atlantic League of Professional Baseball (ALPB)

The Atlantic League is the most innovative league in professional baseball and a gateway to Major League Baseball. In the league's 18-year history, over 34 million fans have attended ALPB games and more than 800 players have joined MLB organizations. The Atlantic League emphasizes winning baseball games, showcases the talent of top-caliber players and offers affordable family entertainment to metropolitan markets serving nearly 15% of the US population. ALPB clubs serve the communities of Bridgeport and New Britain, Conn., Lancaster and York, Pa., Central Islip, N.Y., Bridgewater, N.J., Waldorf, Md., and Sugar Land, Texas.

For more information, please visit www.atlanticleague.com.

###