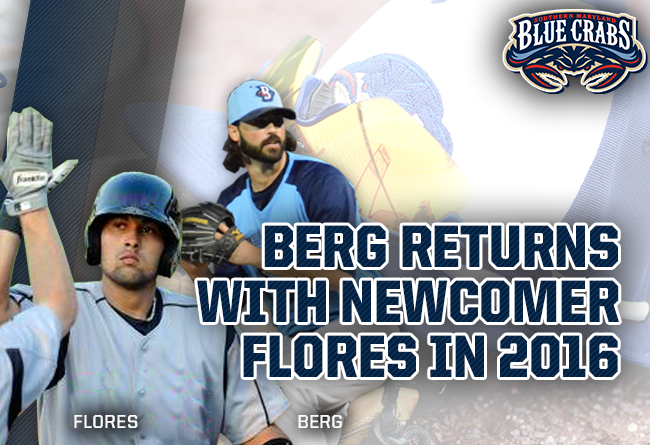 Blue Crabs Add a Returning Pitcher and Veteran Catcher

(Waldorf, Md., March 14, 2016) - The Southern Maryland Blue Crabs have signed RHP Justin Berg and Catcher Angel Flores to the 2016 roster.

Berg will be joining the Blue Crabs for his third consecutive season, while Flores joins his fourth Atlantic League team in his playing career.

Justin Berg is an Antigo, Wisconsin native who brings Major League pitching experience to the 2016 pitching staff. He was drafted by the New York Yankees in the 43rd round of the 2003 MLB Draft. He went on to pitch for the Chicago Cubs for parts of three seasons from 2009-2011, throwing in a total of 60 games. Berg, 31, spent the majority of the 2015 season with the Blue Crabs, posting a 3-3 record, with a 3.35 ERA in 36 games pitched overall.

Angel Flores, 29, is the second catcher signed by Southern Maryland this offseason. Prior to joining Southern Maryland, Flores served time with Lancaster, Bridgeport, and York in the Atlantic League. A Manati, Puerto Rico native, Flores was drafted by the Florida Marlins in the 46th round of the 2003 MLB Draft, but went on to spend six seasons in the Detroit Tigers organization.

"I'm really excited to bring these two guys in," said Blue Crabs Manager Jeremy Owens. "Berg showed us last year that he can pitch in a variety of roles. Flores has played throughout the Atlantic League, and he will add a solid piece to the foundation of the clubhouse."

About the Southern Maryland Blue Crabs

The Blue Crabs play 140 regular season games in the Atlantic League of Professional Baseball Clubs. The Blue Crabs play at Regency Furniture Stadium in Waldorf, Maryland with affordable family fun. The franchise will look to open its ninth season on Thursday April 21st, 2016. Please call 301-638-9788 or visit http://www.somdbluecrabs.com for more information and to reserve your seat at the ballpark today!

About the Atlantic League of Professional Baseball (ALPB)

The Atlantic League is the most innovative league in professional baseball and a gateway to Major League Baseball. In the league's 18-year history, over 34 million fans have attended ALPB games and more than 800 players have joined MLB organizations. The Atlantic League emphasizes winning baseball games, showcases the talent of top-caliber players and offers affordable family entertainment to metropolitan markets serving nearly 15% of the US population. ALPB clubs serve the communities of Bridgeport and New Britain, Conn., Lancaster and York, Pa., Central Islip, N.Y., Bridgewater, N.J., Waldorf, Md., and Sugar Land, Texas. For more information, please visit http://www.atlanticleague.com.

###