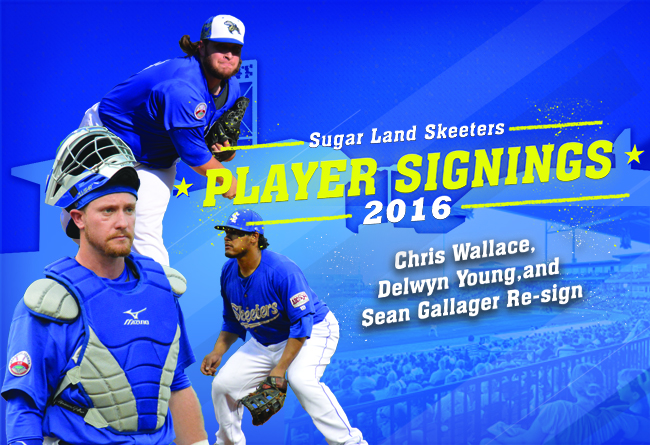 Three More Added to Skeeters Swarm

(Sugar Land, Texas, March 9, 2016) - The Sugar Land Skeeters announced today the signing of three more players to its 2016 roster: catcher Chris Wallace, infielder/outfielder Delwyn Young and right-handed pitcher Sean Gallagher.

Wallace, 27, joins the Skeeters for a second season and his sixth season in professional baseball. Wallace was named the 2015 Skeeters MVP, maintaining a .257 batting average in 129 games and leading the team with 17 HR and 83 RBI. The Houston-area native was drafted in 2010 by the Houston Astros out of the University of Houston. He spent five seasons in the Houston Astros and Cleveland Indians farm systems, advancing as high as Triple-A with both organizations. Prior to his time with the Skeeters, Wallace held a .270 batting average with 39 HR and 185 RBI over 315 minor league games.

Young, 33, begins his third season with the Skeeters and his fifth season in the Atlantic League. Last year for the Skeeters he batted .285 in 118 games with 10 HR and 45 RBI and recorded his 1500th hit of his professional career. In 2014 he was named the Skeeters team MVP, setting the Skeeters single season RBI record (88) and games played (135). He also finished second in a single season for homeruns (20), hits (153) and third in batting average (.289). In his two seasons with the Skeeters, he has a .286 batting average with 30 HR and 133 RBI.

The versatile infielder/outfielder spent five seasons in the major leagues with the Los Angeles Dodgers (2006-2008) and the Pittsburgh Pirates (2009-2010) and had a career average of .258 in 344 games with 18 HR and 81 RBI. In 2010 with the Pirates he totaled 16 pinch hits, third best in MLB. The California native made his major league debut on September 7, 2006 vs the New York Mets. Young was drafted twice by the Atlanta Braves in 2000 (31st round) and 2001 (29th round), but did not sign and remained in college. He was later drafted by the Los Angeles Dodgers in the 4th round of the 2002 amateur draft and signed on June 12, 2002. Young spent a total of 10 seasons in minor league baseball totaling 847 games with 117 HR and 534 RBI and a career .294 batting average.

Young attended Santa Barbara City College under coach Teddy Warrecker where he stills holds team records for hits, runs, home runs and RBI.

Gallagher, 30, returns to the Skeeters for his fourth season. He was the opening day pitcher last season and finished the 2015 campaign with a 6-9 record in 27 games and a 3.51 ERA. In his three seasons for the Skeeters (2013-2015) he has appeared in 44 games, 43 as a starter and is 11-13 with a 3.78 ERA. His 27 starts and 159 innings pitched are top marks in a single season and his 128 strikeouts are second highest. On the Skeeters all-time list his 43 career starts and 249.2 are second best and his 171 strikeouts are third best.

The Boston, Massachusetts native was drafted by the Chicago Cubs in the 12th round of the 2004 amateur draft. In his four seasons from 2007-2010 at the Major League level (Chicago Cubs, Oakland A's, San Diego Padres, Pittsburgh Pirates) he compiled a 10-10 overall record in 91 games, 23 as a starter. He currently lives in Austin, Texas.

About the Sugar Land Skeeters

The Skeeters 2016 season begins Thursday, April 21 at Constellation Field. Season tickets, eight game ticket plans and flex books are on sale now at the Skeeters ticket office or online at SugarLandSkeeters.com.

Led by former Major Leaguer Gary Gaetti, the Skeeters play at Constellation Field, a state-of-the art stadium located at the intersection of State Highway 6 and U.S. Highway 90A in Sugar Land.

The Skeeters play 140 regular season games in the Atlantic League, which offers an open classification of play, the highest level of professional baseball other than Major League Baseball. Atlantic League players are highly experienced professionals that play to win. Over 800 players from the Atlantic League have signed contracts with big league organizations and over 100 players have been transferred to MLB.

###