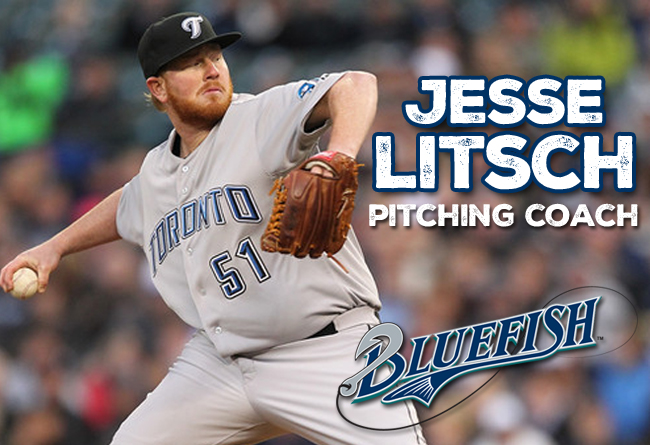 Former big league pitcher Jesse Litsch added to Bluefish coaching staff for 2016

(Bridgeport, Conn. – March 1, 2016) – The Bridgeport Bluefish today announced that Jesse Litsch has been named the pitching coach for the 2016 season.

Litsch joins the Bluefish for his first season in the Atlantic League. Last year, he served as pitching coordinator for MLB China's development center. This past February, he was the pitching coach for Team Philippines in the World Baseball Classic qualifier.

"Jesse is an extremely talented individual and a true professional," said Bluefish General Manager Jamie Toole. "He brings widespread experience to our team, including five years in the Major Leagues. We look forward to having him with us this season."

The 30-year-old began his playing career in 2005 after being selected by the Toronto Blue Jays in the 24th round of the 2004 MLB draft. He spent his entire seven-year career with the Blue Jays organization, making his MLB debut in 2007. The Florida native had a career-best campaign in 2008, when he earned 13 victories, including two complete game shutouts, and struck out 99 batters in 176.0 innings. In five seasons, Litsch made 88 big league appearances and collected a 4.16 ERA with 27 wins and 239 strikeouts in 417.2 innings. He played his last game in 2011 after an injury to his throwing arm forced him to retire.

"I am grateful for this wonderful opportunity to expand my coaching career," said Jesse Litsch. "The Bluefish and the Atlantic League have lots of talented guys and it will be an honor to work with them this summer. With seven years of professional baseball experience, including five in the Majors, I believe that I can help this team and the players achieve their goals and be successful."

Jesse entered into the world of baseball in 2000, when he served as the Public Relations Assistant for the Tampa Bay Rays. He also served as the batboy for the Rays during the next two seasons. The former big league pitcher is also very active in the community. He hosts the annual Jesse Litsch & Bechtel Financial Charity Golf Tournament to benefit children's charities, which is now in its sixth year.

The Bridgeport Bluefish are members of the Atlantic League of Professional Baseball and play their home games at The Ballpark at Harbor Yard. For further information, call 203-210-BLUE (2583) or visit BridgeportBluefish.com.

###