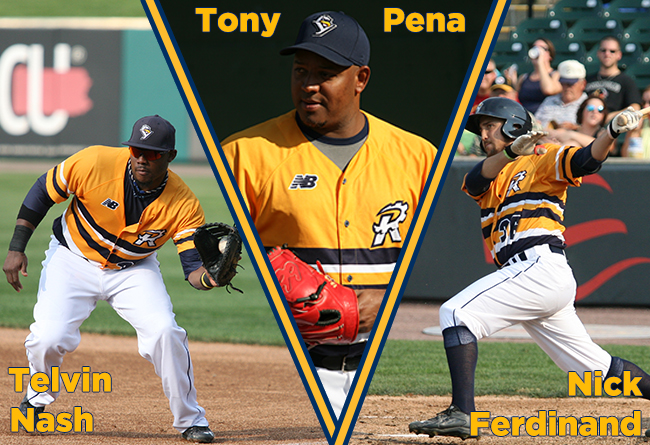 Nash, Ferdinand, Pena set to return for 2016 season

(York, Pa., Feb. 26, 2016) - The York Revolution continue to load up for the 2016 season, announcing three more player signings for the club's upcoming 10th anniversary campaign. First baseman Telvin Nash, outfielder Nick Ferdinand, and right-handed pitcher Tony Pena are all set to return to York, with the signings unveiled by manager Mark Mason on Friday afternoon's airing of "Revs Hot Stove Weekly" on SportsRadio 1350 WOYK.

Nash joined the Revs in mid-June of last season, and went on to slug 13 home runs and drive in 30 runs while batting .270 in 64 games played. Included in those numbers was a torrid finish, as the right-handed power hitter belted eight homers in his final 16 games including seven round-trippers in his final 11 home games of the year. His season pacing computed to 28.4 long balls over 140 contests. Originally a third-round draft pick of the Houston Astros in 2009, the 25-year-old owns 115 career home runs in seven pro seasons, including a career-high 29 with Lancaster of the California League in 2012. The Griffin, GA native began last season by smacking seven homers with 27 RBI in just 30 games for Double-A Corpus Christi, after blasting 22 home runs in just 84 games at the Double-A level the previous year. An all-around threat at the plate, Nash also owns a career .343 on-base percentage including a .391 mark with the Revolution in 2015.

Ferdinand returns after a breakout 2015 season with the Revolution. The 26-year-old batted .262 with 11 home runs and 29 RBI over 69 games played in his first Atlantic League season. The Bensalem, PA native burst onto the scene, drilling a walk-off home run in his Revs debut on June 5 vs. Sugar Land, becoming the first player in franchise history to accomplish the feat in his debut performance. Ferdinand's hot start persisted, batting .345 through his first 23 games with York, and leading the team with eight home runs through play on July 27 despite not joining the squad until the team's 40th game of the year. Ferdinand was drafted by the Philadelphia Phillies after a star-studded career at the University of Delaware and spent his first two seasons in the Phils' farm system. He enters his fourth professional season in 2016.

Pena became a stalwart out of the Revolution bullpen during the second half of the 2015 season, holding a 2.75 ERA with a 2-2 record and one save in 36 appearances, while limiting opponents to just 34 hits and eight walks compared to 31 strikeouts in 39.1 innings. The big league veteran finished with scoreless outings in 26 of his final 28 appearances. The 34-year-old has 313 Major League appearances between 2006 and 2011 with the Diamondbacks and the White Sox, and appeared in a career-high 75 and 72 games for Arizona in 2007 and 2008, respectively. In 2010 with Chicago, Pena filled more of a long role, throwing a MLB career-high 100.2 innings in 52 appearances, which included the only three big league starts of his career. Pena also owns eight saves at the big league level, and ranks second in Diamondbacks history in holds with 55 as a late-inning reliever. Last season, Pena saved 27 games for Laguna of the Mexican League before joining York. The Dominican Republic native made the rare professional debut at the Double-A level in 2004 at age 22, a short journey to his Major League debut just two seasons later. He was first signed as an international free agent by the Diamondbacks in 2002.

The Revs now have nine players under contract for the upcoming season, including eight players who have previously called York home. The club will continue to unveil player signings each Friday on "Revs Hot Stove Weekly" on SportsRadio 1350, woyk1350.com, and the WOYK mobile apps. Fans should tune in next Friday, March 4 at 6 p.m. for more player announcements.

The Revs will open the 2016 season on the road against the expansion New Britain Bees on Thursday, April 21. The club then kicks off its 10th anniversary season at home on Thursday, April 28 against the Sugar Land Skeeters. Full-season, partial season, mini plans, and individual tickets are on sale now at YorkRevolution.com.

The York Revolution Professional Baseball Club is a member of the Atlantic League of Professional Baseball, and Atlantic League Champions in 2010 and 2011. 2016 will be the Revolution's 10th anniversary season at 5 Brooks Robinson Way. PeoplesBank Park hosts all 70 home games in addition to myriad events through the entire calendar year. For tickets or more information, please call 717-801-HITS (4487) or visit the Revolution online at YorkRevolution.com.

###