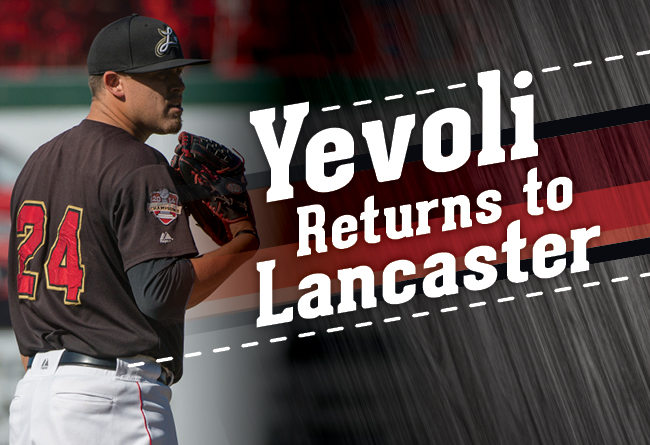 Lefty Specialist to Open 2016 in Lancaster

(Lancaster, Penn., Feb. 22, 2016) - Left-hander Al Yevoli, a key addition to the Lancaster Barnstormers' bullpen late in 2015, has returned for the 2016 season, it was announced today by manager Butch Hobson.

He is the first member of the 2015 squad to re-sign with Lancaster for a second season.

Yevoli, 26, joined the Barnstormers at the end of July and made the first of his 23 regular season appearances on August 1. The Oneonta, NY native covered 17 1/3 innings for Lancaster during the club's 41-16 finish and was never charged with a run. Yevoli yielded only 12 hits while walking three and striking out three. Left-handed batters hit only .114 off the southpaw, and the first batter he faced managed to reach base in just two of his 23 appearances, one on a walk and the other on a bunt single.

He also made two scoreless appearances during the post-season.

Prior to coming to Lancaster, Yevoli was 3-0 with a 4.09 ERA in 34 appearances in the American Association. He had previously spent three seasons in the Frontier League with the Washington (PA) Wild Things. Yevoli's only stretch in a Major League organization came in 2013, when he appeared in 11 games for Kane County (Cubs, A).

"Al Yevoli is a very effective left-hander for us," said manager Butch Hobson. "He can get you a couple of key outs against either left-handed hitters or right-handed hitters. He'll certainly help the back end of our bullpen."

Yevoli is the fifth player under contract for the upcoming season, the 12th in franchise history.

The Lancaster Barnstormers are entering their twelfth season as a member of the Atlantic League of Professional Baseball. Home games are played at Clipper Magazine Stadium in downtown Lancaster, Pennsylvania. Please call 717.509.HITS (4487) or visit LancasterBarnstormers.com for more information.

###