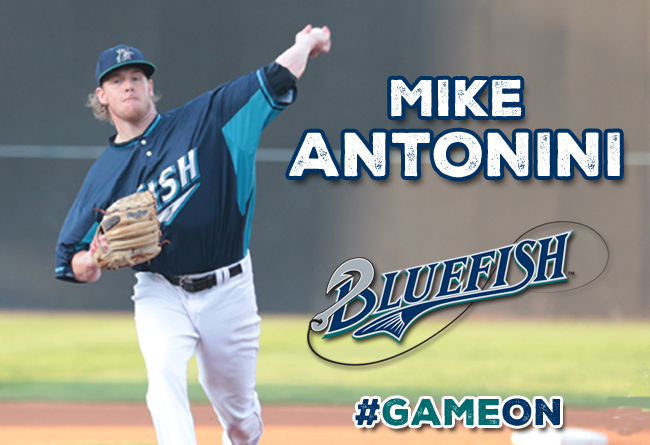 Bluefish bring back left-handed pitcher Mike Antonini

(Bridgeport, Conn. – Feb. 16, 2016) – The Bridgeport Bluefish today announced the signing of left-handed pitcher Mike Antonini.

"We are thrilled to have Mike back in our rotation this season," says Bluefish Manager Luis Rodriguez. "He was one of our most reliable starters last year, and we look forward to his continued success in 2016."

Mike Antonini returns to the Bluefish for his tenth season of professional baseball and third in the Atlantic League. Last year, the left-hander started 11 games for Bridgeport and collected four wins with a 2.79 ERA and 62 strikeouts in 67.2 innings of work. On July 2nd, his contract was purchased by the Los Angeles Angels organization and he was assigned to Double-A Arkansas of the Texas League, where he finished the 2015 campaign.

The 30-year-old made his professional debut in 2007 after being drafted by the New York Mets in the 18th round of the MLB draft. He spent four seasons with the Mets, reaching as high as the Triple-A level, before being traded to the Los Angeles Dodgers for the 2011 season, where he also played at Triple-A. In 2013, Mike joined the independent ranks with Camden of the Atlantic League. In 200 career minor league appearances (159 starts), he owns 51 wins with a 4.05 ERA and 778 strikeouts in 950.1 innings of work.

The Bridgeport Bluefish are members of the Atlantic League of Professional Baseball and play their home games at The Ballpark at Harbor Yard. For further information, call 203-210-BLUE (2583) or visit BridgeportBluefish.com.

###