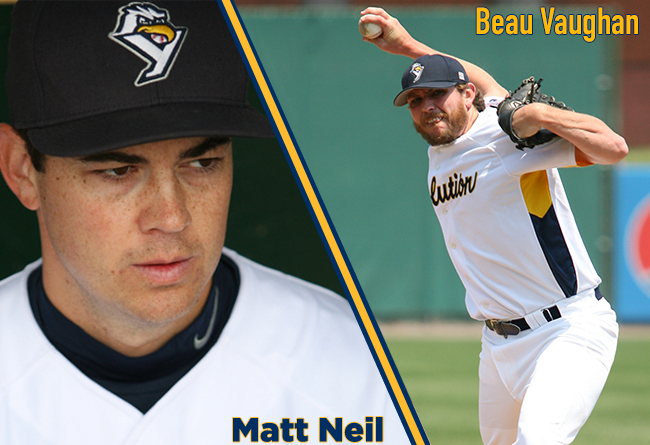 Neil, Vaughan re-sign with Revs

(York, Penn., Feb. 13, 2016) - The York Revolution have signed two more to the 2016 preseason roster, inking returning hurlers Matt Neil and Beau Vaughan. The signings were announced Friday evening by Revs manager Mark Mason on "Revs Hot Stove Weekly" on SportsRadio 1350 WOYK.

Neil returns for his third season with the Revolution, and put together a strong finish to the 2015 campaign. The 29-year-old finished the year 4-8 with a 4.47 ERA, but spun a 1.71 ERA over four appearances in September.

Having made just 11 relief appearances previously in his career, Neil returned from an injury-shortened 2014 to make his first seven appearances in relief last season. Among his finest performances, the 6'6 righty worked eight innings in a combined shutout vs. Southern Maryland on June 16, and tossed seven innings in a combined two-hitter vs. Bridgeport on September 5.

Neil went 2-0 with a 1.47 ERA in three starts for the Revs in 2014, including a 94-pitch complete game win at Somerset on June 3 of that season. Neil had originally signed with York in the spring of 2014, but earned a spot in the Tampa Bay Rays organization to begin the year before eventually joining the Revs in late May.

Originally a 29th-round draft pick of the Miami Marlins out of Brigham Young University in 2011, Neil is 24-25 with a 3.99 ERA over five pro seasons. Neil ascended to Triple-A New Orleans in 2013, going 3-3 with a 4.47 ERA in 10 appearances (eight starts) in the Pacific Coast League. For his career, the control artist has averaged just 1.8 walks per nine innings.

Vaughan has already established himself as one of the most reliable relievers in club history, holding the club record for career ERA (2.60), ranking eighth in appearances (102) and second in relief wins (11). The righty went 3-1 with a 2.64 ERA in 43 outings last season, and allowed just four earned runs in 33.0 innings over his final 31 appearances.

Vaughan tied a team record for relief wins in 2014, going 8-3 with a 2.33 ERA in 51 appearances including three spot starts, while holding opponents to a .176 average.

The 12-year-pro is 44-29 with a 3.36 ERA over his career, including an 18-6 mark with a 2.94 ERA during his time in the Atlantic League, having also pitched for Lancaster and Southern Maryland. The 34-year-old was a third-round pick of the Boston Red Sox out of Arizona State University in 2003, and has pitched at the Triple-A level in the Red Sox, Texas Rangers, and Oakland Athletics organizations. The 2016 season marks Vaughan's fourth with York.

The Revolution now have four players under contract for the upcoming season, and will continue to unveil player signings each Friday on "Revs Hot Stove Weekly" on SportsRadio 1350, woyk1350.com, and the WOYK mobile apps. Fans should tune in next Friday, February 19 at 6 p.m. for more player announcements.

The Revs will open the 2016 season on the road against the expansion New Britain Bees on Thursday, April 21. The club then kicks off its 10th anniversary season at home on Thursday, April 28 against the Sugar Land Skeeters. Full-season, partial season, and mini plans including Revolution Six-Packs are on sale now at YorkRevolution.com. Individual tickets go on sale this Monday, online at YorkRevolution.com.

The York Revolution Professional Baseball Club is a member of the Atlantic League of Professional Baseball, and Atlantic League Champions in 2010 and 2011. 2016 will be the Revolution's 10th anniversary season at 5 Brooks Robinson Way. PeoplesBank Park hosts all 70 home games in addition to myriad events through the entire calendar year. For tickets or more information, please call 717-801-HITS (4487) or visit the Revolution online at YorkRevolution.com.
###