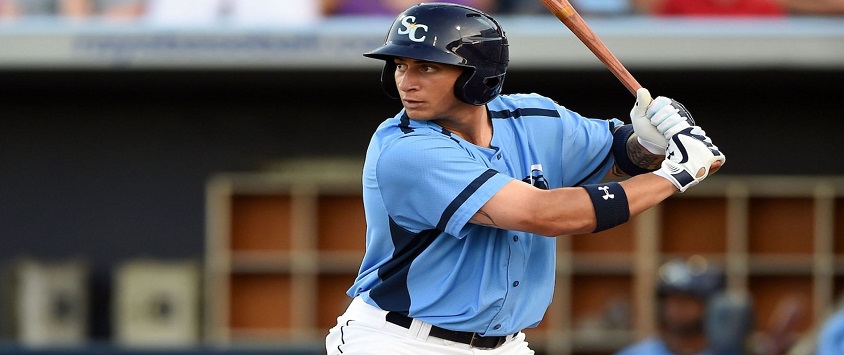 By Kyle Bandujo on August 24, 2021
"From Phenom to the Farm" releases new episodes every other Tuesday featuring players whose experiences vary across the professional baseball spectrum. Players will discuss their personal experiences going from high school graduation to the life of a professional baseball player.
In 2010, Josh Sale entered professional ball as a first-round pick with a powerful lefthanded swing. By 2015, he was out of baseball, cast aside as a pariah—undone by his own actions.
The outfielder from the Seattle high school ranks entered the 2010 draft lauded for a tenacious work ethic in the weight room (something inherited from his father, a former competitive powerlifter), and outstanding makeup. Well-spoken and intelligent, the Rays were sold on Sale as a player and a person, and made him the No. 17 pick—signing for a $1.62 million bonus.
The scouts might have been sold on Sale's work ethic, but when he himself looks back, indications of his future struggles were under-the-radar, but present.
"Hindsight being 20/20, there was a lot of stuff that I hadn't quite figured out off the field," said Sale. "When it came to relationships, human interaction, knowing when and where to be—and even if I did know when and where to be, not getting myself in trouble by knowing where I should be, (but) being somewhere else."
Even before he signed, Sale had a life off the field that detracted from his aspirations as a professional baseball player. In what would become a theme of his professional career, from the get-go Sale would attempt to outwork his personal demons.
"In terms of putting in the work to better myself as a baseball player, I doubled down on myself—I grew up living in a cage," said Sale. "Unfortunately on the flip side, there was some of the stuff I was doing off the field, I'd come into a bunch of money straight out of high school (…) I'd party just as hard as I would train."
Sale struggled during his professional debut at short-season Princeton, and his second season at Bowling Green ended prematurely with a suspension for a banned stimulant. Slowly but surely his career began to nosedive.
He'd be suspended by the Rays for the entire 2013 season for an off-the-field incident, and his 2014 season in High-A would end with a suspension for a drug of abuse. The following spring the Rays cut ties with their former first round pick.
"The main focus of that conversation was, 'Baseball should not be your number one priority right now, you need to get yourself right,'" said Sale. "When I got the call for my release, I was in a position where I couldn't stop doing something if you paid me (…) it was bad."
Sale began a life without baseball—he didn't pick up a bat for over two years, and continued his fight with addiction and self-destructive tendencies.
Motivated by steadfast support from his girlfriend and a desire to be a present father to his young son, in 2018 Sale began to emerge from his hole. He began to coach baseball worked to take back control of his life. .
"That's where I found my understanding of the fact—let's forget baseball for a second, if I'm going to have any chance at being able to maintain the relationship that I'm in, if I'm going to have any chance of being able to be there for my son, and if there's going to be any chance to right some wrongs with mainly my parents through all that I did, I'm going to have to do something drastic."
Putting in the work with baseball had always come naturally, but Sale began to finally put that work ethic into his lifestyle—focusing on fatherhood, his relationship with his longtime girlfriend, and getting sober.
With his life in order for the first time in nearly a decade, Sale got back in the batting cage to make another run at his big league dreams. Over six years after the Rays had cut him loose, Sale found himself once again taking his powerful left-handed swing to a professional baseball lineup with Gastonia of the Atlantic League—this time able to take it all in with a clear mind.
"It was therapy, to be honest," said Sale.
As of Aug. 23, Sale is leading the Atlantic League in home runs, living in Gastonia with his girlfriend and son, and relishing his second chance at life and baseball.
On the latest episode of 'From Phenom to the Farm,' former first-round pick and current Gastonia Honey Hunter Josh Sale joins to discuss his career, struggles with addiction, journey to sobriety, and comeback in professional baseball.