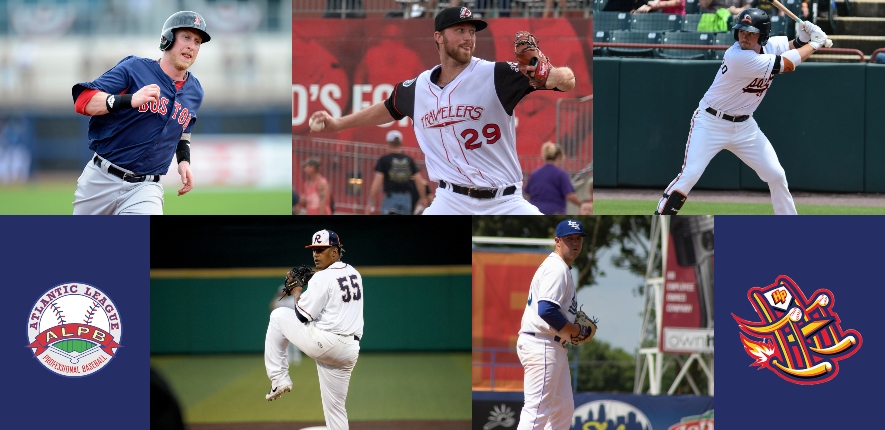 Rockers Add Pair of Players with North Carolina Ties
Hensley, Palmeiro to play in High Point in 2021
HIGH POINT, N.C. March 31, 2021– The High Point Rockers have announced the addition of a pair of players with strong ties to North Carolina. Lefthanded pitcher Bryce Hensley and first baseman Preston Palmeiro will join the Rockers for the 2021 season.
Hensley, 25, is a native of Asheville and pitched collegiately at UNC Greensboro. He won 18 games in his three seasons as a Spartan and marked a career-high with 13 strikeouts against Princeton in 2017. Hensley ranks among the top 12 in UNCG history with 42 career starts and 237.2 innings pitched. Hensley was a 22nd round pick of the Kansas City Royals in 2018 and advanced to AA in 2019 where he posted a combined 2.97 ERA in 16 appearances between stints at Northwest Arkansas and Lexington, Ky.
Hensley is also a talented musician who played numerous bar gigs while in college. With the minor league season canceled in 2020, Hensley recorded his first single, 'Growin' Up in Me," and it was well received on multiple music platforms including Instagram, Spotify and YouTube and is available for download on Apple Music.
"Bryce is going to be one of the lefties in the bullpen," said Rockers' manager Jamie Keefe. "I see him as a middle innings guy and if we need to, he could be that lefty-on-lefty guy. But he is very talented and had some pretty good outings with organizations. He just needs an opportunity to get some innings and we will be able to provide that."
Palmeiro, 26, is a former All-ACC first baseman at N.C. State where he hit .337 with nine home runs and 55 RBI as a junior in 2016. He was taken in the seventh round of the 2016 MLB Draft by the Baltimore Orioles and climbed to AA Bowie by 2019. However, in May 2020 Major League teams released hundreds of players within their farm system due to the pandemic and Palmeiro was among those without a job. The Frisco, Texas native spent part of the 2020 season with the Sugar Land Skeeters. He is the son of former MLB All-Star Rafael Palmeiro.
"Preston had a really good junior year at N.C. State that helped him in the draft," said Keefe. "At N.C. State, he played with our former (Rockers) catcher, Brett Austin. Brett told me that Preston is everything you would think and more. He is a fantastic young man who understands the game. The Orioles were taking it slow with him and let him play at every level because they knew how good he was. He would have been at AA last year but the pandemic shut everything down."
Rockers Add Two More Experienced MLB Pitchers
Ogando and UNCG's Povse to hurl for High Point
HIGH POINT, N.C. April 1, 2021 – The High Point Rockers today added two more pitchers to their roster who have experience in the Major Leagues. The two righthanders include former Philadelphia Phillie Nefi Ogando and former UNCG and Seattle Mariner Max Povse.
The addition of Povse and Ogando gives the Rockers seven players on the 2021 roster with Major League playing experience. They join pitchers Jake Petricka and Josh Judy, along with infielders Tyler Ladendorf, Michael Martinez, and Mitch Walding.
Povse, 27, is the second former UNC Greensboro pitcher to sign with the Rockers this week, joining lefty Bryce Hensley. Povse, a native of Cary, N.C., was a third round draft pick of the Atlanta Braves in 2014 and was named to the Carolina League All-Star team in 2016. He was traded to the Seattle organization and after an outstanding spring training in 2017 was called up to the Major Leagues in June 2017. He spent the 2018 season with both AA Arkansas and AAA Tacoma and missed the 2019 campaign due to an injury.
"Max reached the big leagues at a young age, just 23, and has a world of potential," said Rockers' manager Jamie Keefe. "I really like the way he throws and we will be looking to do anything we can to help him get back to the Major Leagues."
Ogando, 31, has been in professional baseball since 2010 and reached the Major Leagues with the Philadelphia Phillies in 2015 and 2016. He has 26 wins and 21 saves in 11 seasons of professional baseball. Ogando spent the 2019 season with the Cleburne Railroaders of the American Association and went 4-5 with a 3.56 ERA. He has also pitched in the Puerto Rican and Dominican Winter Leagues over the last seven seasons. Ogando is a native of Santo Domingo, Dominican Republic.
"Nefi fits in really well with our ballclub," said Keefe. "We couldn't be happier with the way the bullpen is shaping up. We've got five or six guys with experience as closers. In our situation, we have the staff to be able to close out every inning that needs closing."
Rockers Add Former World Series Champion
Mike Carp won title with Red Sox in 2013
HIGH POINT, N.C. April 6, 2021 – Mike Carp, who has spent 14 seasons in professional baseball and was a key member of the Boston Red Sox 2013 World Series Championship team, has signed a contract with the High Point Rockers.
Carp is the eighth Rockers' player with Major League experience to sign for the 2021 season.
Carp has played in the Major Leagues with Seattle, Boston and Texas. He has 14 seasons of professional baseball experience, having been selected in the ninth round of the 2004 MLB Draft by the New York Mets. Carp made his Major League debut in 2009 with Seattle and hit .315 in 21 games that season.
During Boston's 2013 World Series run, Carp played in 86 games while hitting .296 with nine home runs and 43 RBI. The Red Sox beat the St. Louis Cardinals in six games to win the World Series.
Carp, native of Lakewood, Calif., has played 318 Major League games with a.254 career average with 27 home runs and 127 RBI. He is a career .268 hitter across all levels with 173 homers and 738 RBI. The Rockers originally acquired Carp during the dispersal draft for the New Britain Bees.
"Mike has a great baseball background and we are excited to have him," said Rockers' manager Jamie Keefe. "When he was still available during the (dispersal) draft, it was a no-brainer for us to pick him. He has a big lefthanded bat who has a World Series ring and is a great guy to have in the clubhouse."