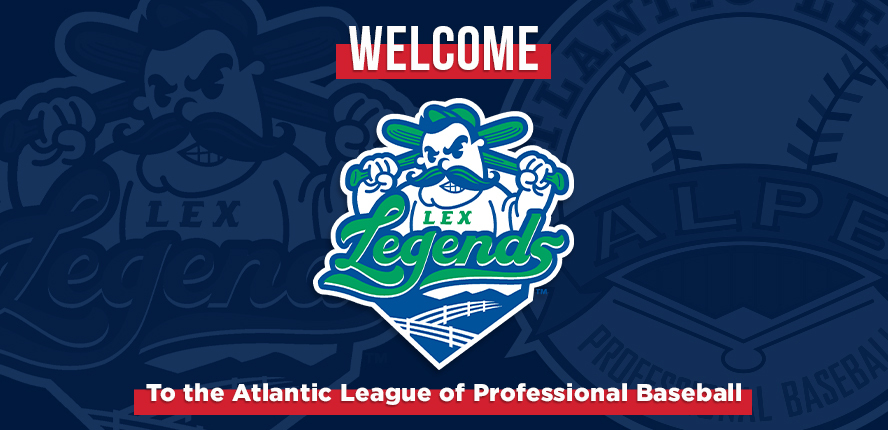 (February 18, 2021, New York) – The Atlantic League of Professional Baseball (ALPB) announced today it has welcomed the Lexington Legends to the Atlantic League. The Kentucky team will begin play in the upcoming ALPB 2021 Championship Season.
The former Class A affiliate of the Kansas City Royals, the Lexington Legends were three-time champions of the South Atlantic League, including back-to-back titles in 2018 and 2019. They averaged more than 425,000 attendees each year at Whitaker Bank Ballpark, located near downtown Lexington, Kentucky. The team is led by Owner/CEO Andy Shea and Chief Operating Officer Jesse Scaglion.
"We are excited and honored to join the Atlantic League," Shea said. "During the 2020 season we created, I had multiple players and fans tell me 'you pretty much have an Atlantic League roster on the field.' From that point forward we realized very clearly that the Atlantic League is the premier MLB Partner League and that our community, ballpark, and fanbase are a perfect match. We are also very thankful for the support and partnership with Major League Baseball during this process. Together, we will all be able to continue growing the game of baseball in our local communities and across the globe."
"We are very excited to add such a high-caliber ballclub to our league," said Atlantic League President Rick White. "We congratulate Andy Shea and the entire Legends organization. The Legends bring a tradition of outstanding baseball, operating excellence, and dedication to their community that make them a perfect fit for the ALPB."
"We are thrilled to continue our relationship with the Lexington Legends as they join the Atlantic League in 2021," said Morgan Sword, MLB's Executive Vice President, Baseball Operations. "We have developed an excellent working relationship with the Legends and congratulate them on this next step for the franchise."
White added that the Atlantic League will soon announce additional news regarding the 2021 Championship Season.