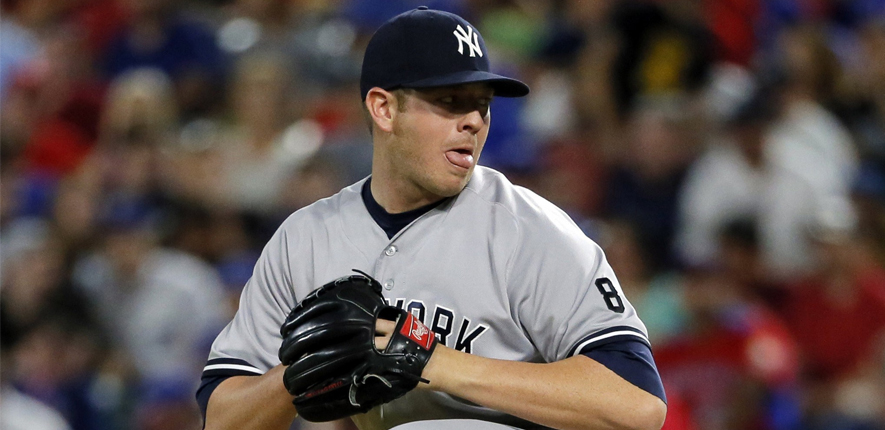 Janurary 27, 2020, Bridgewater, NJ - The Somerset Patriots have signed former New York Yankee right-handed pitcher Johnny Barbato for the 2020 season.
"I'm excited to get up to New Jersey and start another season," said Barbato. "I've heard a lot of great things about the team, stadium and personnel with the Patriots. Everyone so far has been very welcoming. It makes me more excited to get out there and get the season started!"
Barbato enters his first season with the Somerset Patriots and first in the Atlantic League. The right-handed relief pitcher has three seasons of service at the Major League level, including time with the New York Yankees in 2016. There, as a 23 year-old, Barbato appeared in 13 games and struck out 15 batters over 13.0 innings of work.
The Miami, Florida native carried a 4.08 ERA over 24 relief appearances with the Pittsburgh Pirates in 2017. He struck out 23 batters over his 28.2 innings of work and finished seven games for the Bucs that season. Barbato most recently played in the Big Leagues for the Detroit Tigers in 2018, where he made seven relief appearances. He owns a 1-3 record with 40 strikeouts over 48.1 innings of work across 44 relief appearances in the Majors.
"We are proud to be joined by Johnny Barbato for the 2020 season," said Somerset Patriots manager Brett Jodie. "Johnny brings a lot of experience in his young career. He has had success through the minor leagues, as well as the major league level and overseas. He is a power guy that strikes out a lot of guys while minimizing hits and walks. Johnny is someone you want in the back end of your bullpen. He is comfortable in a variety of roles and we are happy to have him as part of our staff."
Barbato has dominated at the Triple-A level, including notable stints from 2015-2018. He went 4-0 with a 0.36 ERA and three saves in 2015 with Triple-A Scranton/Wilkes Barre and 3-2 with a 2.61 ERA and three saves again with the Railriders one season later. The Felix Varela High School alumnus then posted a 3.06 ERA across 26 appearances (two starts) with Triple-A Indianapolis in 2017 before most recently impressing with a 1.45 ERA and 12 saves over 33 appearances (two starts) for Triple-A Toledo in 2018.
Overall, Barbato owns a 7-7 record with a 2.10 ERA, 22 saves and a 1.11 WHIP across 105 appearances (six starts) at the Triple-A level.
The 27 year-old most recently spent his 2019 season in Japan with the Hokkaido Nippon Ham Fighters. He struck out 49 batters over 66.1 innings pitched across 33 combined appearances between the Eastern and Pacific League affiliates of Nippon Ham.
Barbato was originally a sixth-round draft pick by the San Diego Padres out of high school in 2010. He owns a 21-22 record with a 3.31 ERA and 55 saves across 272 games (28 starts) over eight seasons in minor league baseball.
The Somerset Patriots will be back in action on Friday, May 1st for Opening Day at TD Bank Ballpark. Stay up to date on all the team news throughout the offseason online; on all of our social media platforms, and on our mobile app. For more information, visit www.somersetpatriots.com.