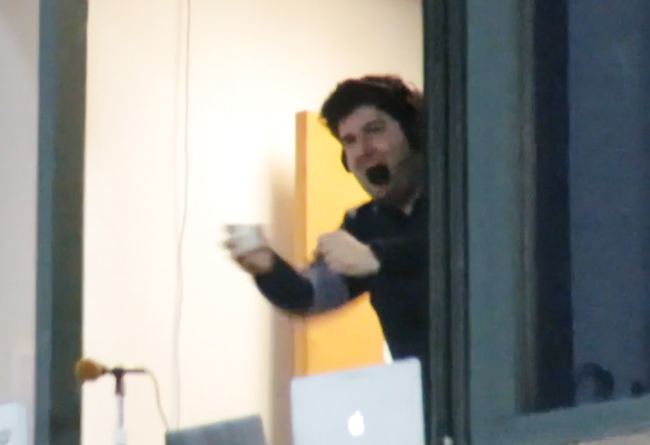 (Bridgewater, N.J., May 22, 2019) – What an impressive week for Somerset Patriots broadcaster Marc Schwartz. On Wednesday, May 15th, Schwartz, who also serves as the team's Director of Broadcasting/Media Relations, made a catch of a foul ball that came into his booth while calling play-by-play of the moment without breaking stride.

Upon catching the ball, Schwartz says, "I'm very proud of myself. Boy am I impressive. What a play by me." The video shot by Gannett NJ's Mike Ashmore was matched up with the audio and then shared on Schwartz's social media accounts and the rest is history.

By Thursday evening, the video was everywhere including the MLB Network and team broadcasts, ESPN, CBS, NBC, Fox Sports, and CNN to name a few. It even made it to "Jimmy Kimmel Live" on Friday night, where the comedian introduced the clip in his monologue as "What I believe will go down as one of the great moments in sports broadcasting history!"

"This has been absolutely surreal," Schwartz told Ashmore for MyCentralJersey.Com. "I would never have imagined that a video like this would have received this much attention, and would have resonated with this many people. Seeing all of the sharing, all of the commenting, all of the posting, it just doesn't feel like this is reality. I look at the video and it doesn't feel like me anymore."

Since getting picked up, the viral sensation has already received over ten million views around the world. However, in all the places it has appeared, countless millions more have witnessed the "Catch Seen and Heard Around The World."

The whirlwind continued on the morning on Monday, May 20th when Schwartz did a live on-camera interview on ESPN's "SportsCenter." The four-minute segment with veteran anchor Randy Scott aired in the 8:00 am broadcast.

"It's going to sound cliché to say, but as a kid who grew up liking sports, it was always a dream of mine to be on SportsCenter," he told Ashmore. "Unconventional as it may be for this to be the way that it happens, to be able to link up for that interview and to see my face on SportsCenter and to have my mom and my dad see that and see their reaction from that video, that is 100 percent the coolest part of all of this."

The Somerset Patriots have created t-shirts capturing the iconic call. The front says "Boy am I impressive" with a cartoon version of Schwartz. The back says "I am very proud of myself" with the Somerset Patriots logo.

The t-shirts are $30 with $5 of every shirt going to the Somerset Patriots Children's Foundation. From there, the team will take the money raised and make donations specific to health, military, and education programs in the Central New Jersey area. The charitable work of the team's foundation has raised over $5.5 million since the team began play in the Atlantic League in 1998.

"It was important to our organization that all the attention that the video has provided should do some good, not just for the team, but for our community," said Somerset Patriots President/General Manager Patrick McVerry. "We had discussed the shirts being done initially in jest, but then, like the video, it took on a life of its own. We think that the excitement surrounding this fun and entertaining clip expertly done by Marc Schwartz and Mike Ashmore can do a lot for non-profits we work with and support all year long."

###