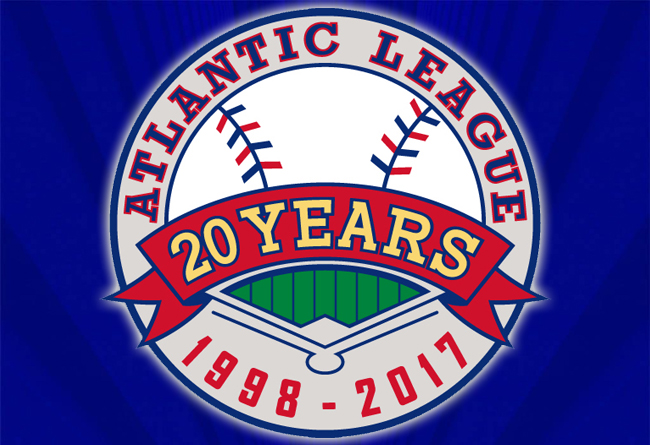 By: Marc Russinoff

The Beginning

On May 20, 1998, the first ever Atlantic League of Professional Baseball game was played at the Sandcastle ballpark in Atlantic City, New Jersey between the Atlantic City Surf and the Somerset Patriots. The newly founded six-team independent league had come to fruition after a three-year process that began when Founder Frank Boulton was looking to move one of his minor league teams to the Long Island area. During that time, he began to see a shift in the baseball industry.

"The need for our league was really twofold," said Boulton. "There was a need on the players' side that still had the skills to play at a very high level, but were excluded out of major league organizations. At the same time, there was a growing number of cities looking to provide baseball to their communities that were told no by Major League Baseball because of territorial rights covering many miles. After reviewing the opportunities on both fronts, we decided to give it a go."

Boulton modeled the Atlantic League on a Double-A/ Triple-A level of play on the field and ballparks that were comparable to Double-A sized facilities. He also focused on bringing in veteran players, including former major leaguers, to set the Atlantic League apart from other independent leagues around the country.

Surrounding himself with baseball veterans instantly gave legitimacy to the fledgling league. Baseball operations were developed by respected baseball veterans, led by Executive Director Joe Klein, a former General Manager for the Texas Rangers, Detroit Tigers, and Cleveland Indians.

"When I was the GM of the Tigers, I was also on the Baseball Operations Committee for Major League Baseball. In the player development system, we were approaching the problem of adequate talented players to fill roles when guys got hurt," said Klein. "The depth in organizations wasn't good. If guys weren't staying in shape by playing at a high level somewhere, they had a much higher chance of coming in and getting hurt. Our league gave players a place to go and allowed Major League Baseball to keep an eye on them for when opportunities became available."

Championship caliber names followed that brought attention to the brand when New York Yankees legend Sparky Lyle, the 1977 Cy Young Award winner and two-time World Series Champion, was named as the manager of the Somerset Patriots. Team chairman Steve Kalafer, a founding member of the Board of Directors of the league, brought Lyle into the fold when the former "Bronx Bomber" was looking to buy a Ford F-150. Lyle not only left with the truck from Flemington Car & Truck Country, but also got a life-long contract to manage Kalafer's team.

"I was doing everything I could to help get the league to where we all wanted it to be," said Lyle. "I would go with Joe to spring training camps and talk to players. We would talk to coaches and agents and ask if a player is released to send them our way. I can't remember the year it clicked, but things started to turn where people were calling us. MLB scouts started taking the league seriously and signing guys for their teams."

Lyle managed the Somerset Patriots for 15 seasons, where he went on to win 1,025 games and a league record five championships. He was named Atlantic League Manager of the Year on three occasions and guided his teams to nine Division Championships and 11 Half Titles before moving into his current role as Manager Emeritus.

Lyle was joined by fellow Major Leaguers Willie Upshaw (Bridgeport Bluefish) and Wayne Krenchicki (Newburgh Black Diamonds) as managers in 1998. The owner of the Newark Bears, Rick Cerone, was also well-known for his time in pinstripes. Through the years Mitch Williams, Tommy John, Von Hayes, Bill Madlock, Tommy Herr, and Darrell Evans served in managerial roles.

In 2000 Butch Hobson, a former Major League manager of the Boston Red Sox, took over as skipper for the Nashua Pride. It began his long road to becoming the winningest manager in league history with service over 16 seasons with Nashua (2000-2005), the Southern Maryland Blue Crabs (2007-2009), and the Lancaster Barnstormers (2010-2016). Before being replaced this season, Hobson went on to accrue 1,105 wins and won two championships.

The Long Island Ducks entered the league in 2000 and brought with them an owner/manager that was perfect for their market. Bud Harrelson, a World Series Champion player and coach with the New York Mets, continued to show the Atlantic League was for real and the proof came in not just the level of play, but in the number of fans showing up to the ballpark. In their first year, the Ducks welcomed over 436,000 people to start a span of 11 straight seasons over the 400,000-fan plateau.

Through expansions a few years later, Hall of Famer and 16-time Gold Glove winner Brooks Robinson entered the league as an owner of the Barnstormers and York Revolution.

When the Sugar Land Skeeters joined in 2012, they added their manager Gary Gaetti, a two-time All-Star and World Series Champion to the Atlantic League's roster of major league stars. In their first season, the Skeeters set a new league record with 465,511 total fans.

The Bluefish and the Patriots - the only two original league franchises from 1998 - have been joined over the years by the Ducks (2000), Barnstormers (2005), Revolution (2007), Blue Crabs (2008), Sugar Land Skeeters (2012), and the New Britain Bees (2016) to complete the now eight-team league.

Level of Play

The Atlantic League offers an open classification of play, the highest level of professional baseball other than Major League Baseball. Players are highly experienced professionals, having progressed through baseball developmental levels (A, AA, AAA), with over 40% having prior MLB service.

"I always told players that unless you played in the big leagues, this was going to be the toughest place you ever played," Lyle remarked. "You'll be up against a guy you played with or opposed the past five seasons in the minors or major leagues. The high level of play is a real feather in everybody's cap that helped make this league work. It certainly isn't your run of the mill league."

Over its first 19 seasons of play, over 800 of the league's players have signed contracts with big league organizations and over 100 players have been promoted to Major League Baseball. Over 50 former Atlantic League players and coaches are managers or coaches in MLB organizations.

The league has attracted some impressive names so far. Baseball Hall of Famers Tim Raines and Rickey Henderson made stops in Somerset and Newark respectively on their way back to major leagues. Raines would return to the league as manager of the Bears in 2009 and 2010. Another Cooperstown inductee, Gary Carter, managed the Ducks in 2009.

Other notable Major Leaguers to spend time in the Atlantic League include Dante Bichette, Jose Canseco, Roger Clemens, Juan Gonzalez, Scott Kazmir, Jose Lima, Curtis Pride, John Rocker, Ruben Sierra, and Dontrelle Willis. Rich Hill's recent rise to the top came with a brief stay in Long Island in 2015.

MLB Ties

In 2016, the Atlantic League became the first independent professional baseball league to sign a working agreement with Major League Baseball. The signed formal agreement with Major League Baseball put into writing the rules in which the Atlantic League would follow in selling its players' contracts to MLB clubs.

"Having this historic agreement in place with Major League Baseball is important to our players, teams, and fans," said Kalafer. "It is the ultimate seal of approval in professional baseball and reaffirms that the Atlantic League has the highest standards that helps players get back to major league organizations."

Innovation

The Atlantic League has been at the forefront of reviewing ways to reduce the average time and enliven the pace of baseball games to enhance overall fan experience. One adopted rule of eliminating the four-pitch intentional walk by Major League Baseball has been in place the past two seasons in the Atlantic League.

"MLB has mimicked our ground-breaking work in pace of play ranging from the intentional walk rule, limits on time outs, time limits on conferences, countdown clocks, among other rules originated in the Atlantic League," said league President Rick White, who began his position in 2015. "We exert tremendous influence among all of professional baseball. We will continue to try pace of play ideas and other innovations to make the game more topical."

Success

Entering its 20th season, the Atlantic League prides itself on creating fun and affordable family entertainment. Since the league's inception, more than 36,000,000 fans have attended Atlantic League games in one of the league's state-of-the-art ballparks. The Atlantic League is the only professional baseball league in an active expansion mode, with the New Britain Bees becoming the latest member last season.

"The 36,000,000 plus fans shows that the league has a proven track record," Boulton added. "The goal is always to make the league better and stronger. We must continue to do what we've been doing and have it work for everybody. We need smart growth in terms of expansion. Eight teams work, but I think 12 would also be a great number. It needs to make sense and the level of play can't be diluted at all by the expansion for it to work."

Due to the endless efforts of league officials, ownership, front office staffs, managers, coaches and players, the Atlantic League has earned the reputation as the premier independent minor league in the country. The league looks to continue to grow and make its mark in the world of professional baseball.