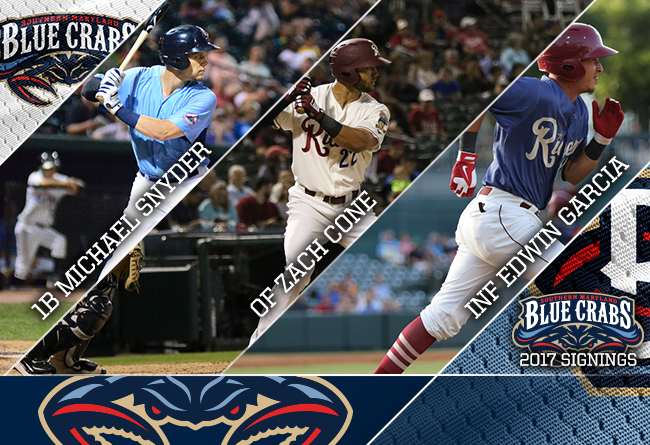 Righty slugger Michael Snyder returns for a second season with Edwin Garcia and Zach Cone

(Waldorf, Md., Feb. 9, 2017) – The Blue Crabs announced the signing of three players for the 2017, 10th anniversary season on Thursday. First year Blue Crabs Edwin Garcia and Zach Cone are joined by slugger Michael Snyder who returns for his second season with the Blue Crabs.

First baseman Snyder looks to build off his impressive 2016 campaign. The right handed slugger lead the team with a .304 batting average and 25 home runs, matching his career high for home runs hit in a season. The former Los Angeles Angels of Anaheim draft pick joined the Blue Crabs following playing four years in the Angels organization. Snyder was named the 2016 All-Star Game starting first baseman despite only playing 95 games for the Blue Crabs. Snyder's bat was heard loud and clear around the league as he looks to continue on his 2016 successes.

Outfielder Zach Cone is a former first-round draft pick of the Texas Rangers. With a career .310 on-base percentage, Cone has a knack of finding the bases. He had a career year for home runs in 2015 with 18 between two teams, the AA Frisco Rough Riders and Advanced-A Desert Mavericks. A skilled outfielder, Cone has logged innings in all three outfield positions with a combined .989 fielding percentage, and has 21 career outfield assists.

Infielder Edwin Garcia is a former international free agent signed by the Texas Rangers. Garcia has spent every year of his eight-season professional baseball career with Texas, scaling from their Dominican Winter League team to AAA Round Rock, spending time most recently in AA Frisco. The 25-year-old Venezuela native has logged playing time in all infield positions predominately shortstop and second where he played 304 and 209 games respectfully. His right-handed batting stance is potent against left handed pitching, hitting .310 versus southpaws in 2015 and .289 in 2016. Garcia also holds a .289 batting average with two outs with runners in scoring position in 2015.

"The return of Snyder's bat in addition to the talents of Garcia and Cone are exciting," said John Harris, Blue Crabs manager. "Snyder's All-Star season last year was superb and we are thrilled for his return. Garcia and Cone bring solid defense to the table in addition to their abilities at the plate."

The Blue Crabs open up the 2017 season on April 20th in Waldorf, MD versus the Long Island Ducks. For information regarding tickets and other team news, visit www.somdbluecrabs.com or call 301-638-9788.

About the Southern Maryland Blue Crabs

The Blue Crabs play 140 regular season games in the Atlantic League of Professional Baseball Clubs. The Blue Crabs play at Regency Furniture Stadium in Waldorf, Maryland with affordable family fun. The franchise will open its tenth anniversary season on Thursday April 20, 2017. Please call 301-638-9788 or visit www.somdbluecrabs.com for more information and to reserve your seat at the ballpark today!

About the Atlantic League of Professional Baseball (ALPB)

The Atlantic League has been a leader in professional baseball and a gateway to Major League Baseball since 1998. Over 36 million fans have attended Atlantic League games and more than 800 players and 50 managers and coaches have joined MLB organizations directly from the ALPB. The Atlantic League emphasizes winning baseball games, showcasing the talent of top-caliber players and offering affordable family entertainment to metropolitan markets serving nearly 15% of the US population.

For more information, please visit www.AtlanticLeague.com.

###