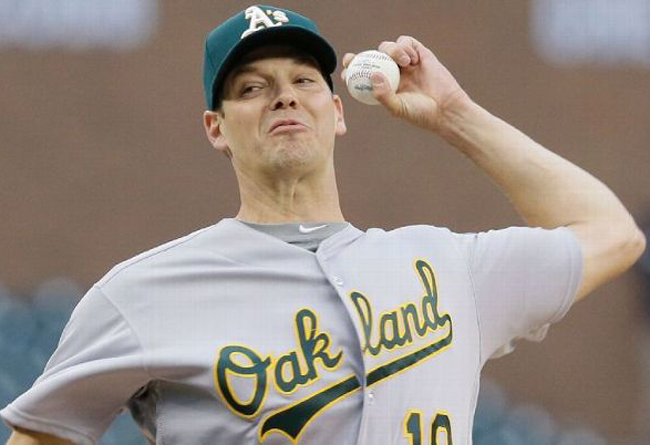 By: David Schoenfield

Rich Hill has had a fascinating, unique career, full of more twists and turns than a "Game of Thrones" episode, with some of the same tragedy. He has spent parts of every season since 2005 in the majors. He has also spent parts of every season since 2005 in the minors, except for 2007 and 2013. He has pitched for seven different teams in the majors (two stints with the Red Sox). He has pitched for 16 different minor league teams, not including winter ball. He has appeared for Pawtucket, Boston's Triple-A team, in five separate seasons. At one point last season he ended up pitching for the independent Long Island Ducks of Atlantic League, after the Nationals had granted him his release.

Now the 36-year-old lefty, who signed with the Oakland Athletics in the offseason, is looking like one of the best starters in baseball.

And he's for real.

His story goes back to 2007, when he had a solid season with the Cubs, going 11-8 with a 3.92 ERA and striking out 183 batters in 195 innings. He ranked fifth in the National League in strikeouts and eighth in WHIP. Then came a bout of wildness and shoulder surgery, and then Tommy John surgery in 2011. From 2010 to 2014 he appeared in 119 games, all out of the bullpen. Two years ago, he lost an infant son to medical issues.

When Hill exercised his out clause with the Nationals and was released, he wanted to give starting pitching one last try. Major league organizations, however, viewed him as a reliever; he went home and stretched out his pitch counts with bullpen sessions with his old American Legion team. Only the Ducks gave him a chance to start. After two dominant outings with them, he signed with the Red Sox, with no guarantee of a September call-up. Then, for maybe the first time in his career, luck intervened. Steven Wright suffered a concussion. Joe Kelly went on the disabled list. The Red Sox, stumbling to a last-place finish, just needed an arm to finish out the season.

Hill got four starts in September and pitched like Clayton Kershaw: 29 IP, 14 H, 5 BB, 36 SO, 1.55 ERA, three games with 10 strikeouts, and his second career shutout.

More than 20 teams were interested in him, but he signed a one-year, $6 million deal with the A's, who would let him start. "It was really a personal journey for myself getting back to what I always wanted to do, being a starting pitcher," Hill said when he signed.

How did all this happen? How did he go from a reliever with control problems and no job to a guy with 73 strikeouts and 14 walks in 55 innings over nine major league starts? Hill made two adjustments in his time off. He want back to throwing overhead, after working as a sidearmer since his shoulder surgery. He also moved from the first-base side of the rubber to the third-base side, at the suggestion of Jared Porter, then the Red Sox's director of pro scouting.

After Hill tossed seven shutout innings on Tuesday against the Tigers, I was asked on Twitter if he was for real. My response was "I have no idea." But after examining some numbers, I'm convinced he absolutely is for real. You don't pitch like this for nine starts by sheer luck.

August Fagerstrom of FanGraphs wrote this about Hill's strong September back in March:


On the surface, Hill's fastball, which travels just 90.8 miles per hour on average, is unremarkable. But it's also got horizontal movement that rivals Chris Sale's and Steven Matz's, coupled with average rise and a well-above average spin rate. And that's not even where it becomes remarkable. This is where it becomes remarkable:

Highest whiff/swing, 4-seam fastballs:

Rich Hill, 31%

Chris Sale, 29%

Rick Porcello, 28%

Max Scherzer, 28%

Jacob deGrom, 26%

David Price, 26%

It's Rich Hill, right above five of the best pitchers in baseball.


OK, so to find out if Hill is legit, we can check his swing-and-miss rate on his fastball. If he's doing what he did in September, I'm buying into his hot start.

ESPN Stats & Info has swing-and-miss rates for all fastballs (not just four-seamers) and here are the leaders for 2016 among starting pitchers:

1. Hill, 35.6 percent

2. Drew Smyly, 35.0 percent

3. Price, 33.1 percent

4. Vince Velasquez, 32.1 percent

5. Jimmy Nelson, 31.6 percent

Others in the top 10 include Jose Fernandez and Madison Bumgarner.

So, yes, the fastball is still working like it did last September. He doesn't throw hard, but he throws it up in the zone with that horizontal movement and some deception in the delivery.

It's a great story, an amazing comeback. Buster Olney wrote today about the trade market for Sonny Gray. They could also end up dangling Hill as trade bait. How attractive would a guy making just $6 million look as a midseason acquisition for a pitching-starved rotation?

But there's also this. With the Astros struggling, the AL West looks wide open. Maybe the A's can ride Gray and Hill a lot further than everyone predicted for the A's back in March.

http://espn.go.com/blog/sweetspot/post/_/id/70135/why-rich-hill-is-absolutely-for-real