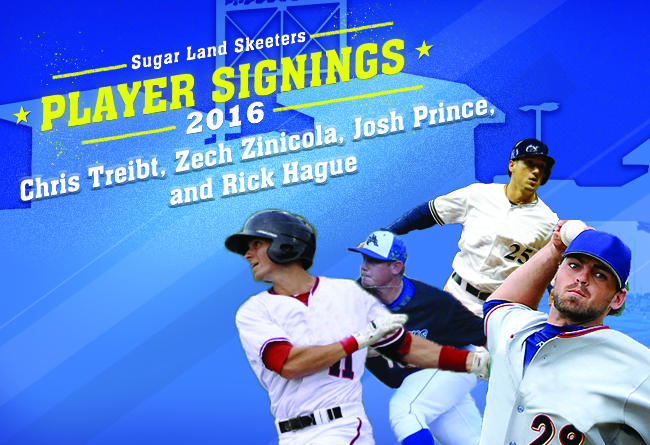 (Sugar Land, Texas, April 4, 2016) - The Sugar Land Skeeters announced today that the club has signed four new players to its 2016 roster. Right-hander Chris Treibt will be returning for his second season, with the newest additions being right-hander Zech Zinicola and infielders Josh Prince and Rick Hague.

Treibt, 29, appeared in three games for the Skeeters in 2015 striking out three and walking two over three innings of work. Treibt has spent his entire professional career in the Independent League and has appeared in 64 games and posted a 4-3 record with a 3.70 ERA, two saves and has recorded 69 strikeouts in 90 innings of work. His best season was in 2014 with the Brownsville Charros posting a 2-1 record with a 2.58 ERA in 23 games. The Oklahoma native attended and played baseball at both Rogers State University and Northeastern State University.

Zinicola, 31, was drafted by the Atlanta Braves in the 43rd round of the 2003 MLB Amateur Draft. Instead of pursuing his professional career, Zinicola decided to play baseball at Arizona State University where he would later be drafted by the Washington Nationals in the 6th round of the 2006 MLB Amateur Draft. Zinicola has pitched at various levels of A ball with the A Nationals (Washington), AA Clippers (Cleveland)and AAA Chiefs (Washington) In his minor league career, the right-hander has a career record of 20-22 with an ERA of 3.74 and has accumulated 339 strikeouts in 385 innings of work.

Prince, 28, a Louisiana native attended both Tulane University and The University of Texas at Austin. After a breakout junior season at Tulane, Prince was drafted by the Milwaukee Brewers in the 3rd round of the 2009 MLB Amateur Draft. Prince has spent seven seasons in the minors where he posted a career batting average of .247 with 569 hits in over 2,300 plate appearances. Prince made his Major League debut with the Brewers and recorded his first career hit on April 7, 2013.

Hague, 27, from Spring, Texas attended Rice University and was drafted by the Washington Nationals in the 3rd round of the 2010 MLB Amateur Draft. Throughout his minor league career, Hague has played made his way through A ball where he's played with theA Suns (Washington), A Nationals (Washington),AA Senators (Washington) and AAA Chiefs (Washington). In six seasons, Hague has a career .252 batting average with 431 hits in nearly 1,900 plate appearances.

The Skeeters 2016 season begins Thursday, April 21 at Constellation Field when they host the Bridgeport Bluefish in a 7:05 p.m. game. Season tickets, eight game ticket plans and flex books are on sale now at the Skeeters ticket office or online at SugarLandSkeeters.com. Led by former Major Leaguer Gary Gaetti, the Skeeters play at Constellation Field, a state-of-the-art stadium located at the intersection of State Highway 6 and U.S. Highway 90 A in Sugar Land.

About the Atlantic League of Professional Baseball (ALPB)

The Atlantic League has been a leader in professional baseball and a gateway to Major League Baseball since 1998. Over 34 million fans have attended Atlantic League games and more than 800 players and 50 managers and coaches have joined MLB organizations directly from ALPB. The Atlantic League emphasizes winning baseball games, showcasing the talent of top-caliber players and offering affordable family entertainment to metropolitan markets serving nearly 15 % of the US population.

For more information, please visit www.AtlanticLeague.com.

###