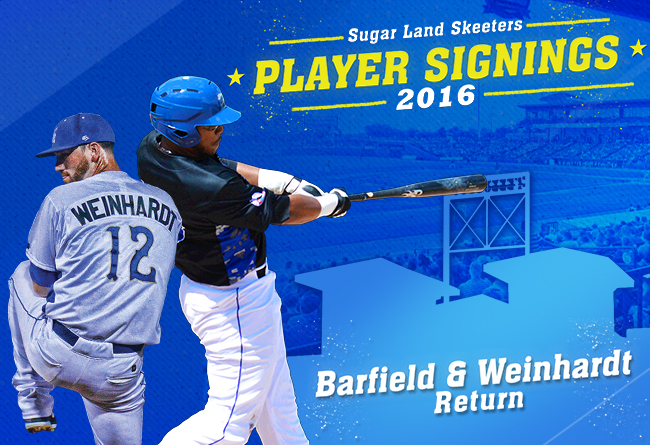 Two More Added to Skeeters Swarm

(Sugar Land, Texas, Feb. 22, 2016) – The Sugar Land Skeeters announced today that the club has signed two more players to its 2016 roster including the return of outfielder Jeremy Barfield and right-handed pitcher Robbie Weinhardt to Constellation Field.

Barfield, 27, played in 17 games with the Skeeters in 2015 before signing with the Colorado Rockies Double-A affiliate. The power-hitting outfielder hit .250 with four home runs, 10 RBI and 11 runs scored in his time with the Skeeters helping them go 14-3 during his 17 game stretch. The Houston native was drafted by the New York Mets in the ninth-round of the 2006 Draft out of nearby Klein High School and again in the eighth-round of the 2008 Draft out of San Jacinto College. The eight-year veteran advanced as high as Triple-A with the Rockies last season making 42 appearances with the Isotopes with a .267 average and 15 RBI.

Weinhardt, 30, made his MLB debut in 2010 with the Detroit Tigers after being drafted in the 10th round in 2008. The Pearland native was originally drafted by the Houston Astros in 2007 out of Oklahoma State University in the 38th round. He made a total of 30 appearances for the Tigers in 2010 and 2011, earning a 2-2 overall record. He also spent time in the Tigers minor league system with the AA Seawolves (2011,2012,2013) and AAA Mud Hens (2011,2013). The right-hander owns a career 12-22 record with 19 saves and a 2.84 ERA over six seasons of professional ball.

The Skeeters 2016 season begins Thursday, April 21 at Constellation Field when they host the Bridgeport Bluefish in a 7:05 PM game. Season tickets, eight game ticket plans and flex books are on sale now at the Skeeters ticket office or online at SugarLandSkeeters.com.

About the Sugar Land Skeeters

The Sugar Land Skeeters are led by former Major Leaguer Gary Gaetti and play at Constellation Field, a state-of-the art stadium located at the intersection of State Highway 6 and U.S. Highway 90A in Sugar Land.

The Skeeters play 140 regular season games in the Atlantic League, considered the highest level of Minor League Baseball. Atlantic League players are "Major League ready" and in the last 16 years, over 600 players have graduated from Atlantic League clubs to Major League organizations, making the League a preferred route for experienced players to be scouted by Major League Baseball.

###