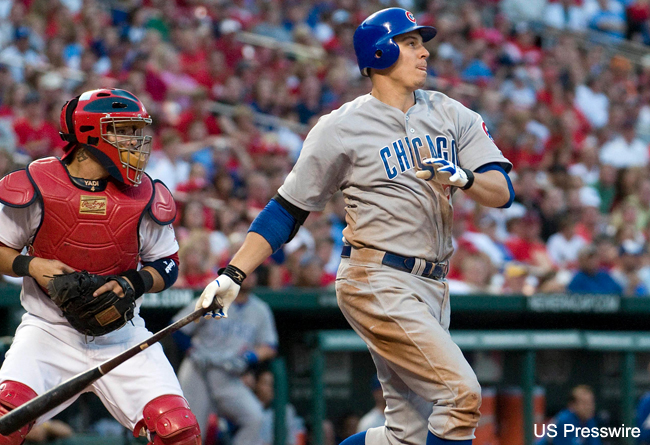 (Bridgewater, N.J., Feb. 16, 2016) – The Somerset Patriots have announced the signing of 2012 Major League All-Star infielder Bryan LaHair.

"I'm really excited to get back on the playing field," said LaHair. "I have seen pictures of the great facilities and great field [in Somerset]. The other players say it's the best place to be. Plus, I am excited to join a winning atmosphere after last year's championship run."

LaHair enters his first season with the Somerset Patriots and first in the Atlantic League. He has three years of Major League experience, including two with the Chicago Cubs in 2011 and 2012.

The Worcester, Massachusetts native earned a spot as a reserve infielder in the 2012 MLB All-Star game after a strong start to begin the season with the Cubs. LaHair hit .390 with five home runs and 14 RBI in April, and carried those strong stats through May, still holding a .308 average with 10 home runs and 22 RBI come the beginning of June.

LaHair had one at-bat in the All-Star Game in front of over 40,000 fans at Kaufman Stadium in Kansas City, Missouri. Overall, he hit .259 with 16 home runs, 40 RBI and 17 doubles over 130 games that season with the Cubs.

"We are very happy to have a veteran hitter like Bryan LaHair join our organization," manager Brett Jodie said. "Bryan worked his way to the major leagues through hard work and consistent play. He is a smart hitter with a bunch of power. LaHair will play some first base and corner outfield for us and be a presence in the middle of our lineup."

The 2002 draft pick by the Seattle Mariners broke into the majors in 2008 with Seattle. There, he hit three home runs with 10 RBI over 45 games.

LaHair returned to the big league three seasons later with the Cubs in 2011, where he hit .288 with two homers and six RBI in 20 games. LaHair hit .260 with 21 home runs and 56 RBI over 195 games at the Major League level.

The St. Petersburg College alum has hit over 20 home runs in four different minor league seasons, highlighted by league-leading 2011 campaign with the Triple-A Iowa Cubs. That year, LaHair led the Pacific Coast League in home runs (38) and RBI (109) with a .331 average. 2015 Somerset Patriot Mat Gamel finished second in homers in the PCL that year with 28.

He also hit over 20 home runs in 2005 (High-A Inland Empire), 2009 (Triple-A Tacoma) and 2010 (Triple-A Iowa).

LaHair split time between Double-A Akron and Triple-A Columbus in the Cleveland Indians organization in 2014, and spent time with the Boston Red Sox during Spring Training last season.

Overall, LaHair has batted .288 with 164 home runs and 715 RBI in 1,081 games in the minors.

The Somerset Patriots won their Atlantic League leading sixth championship during the 2015 season. Tickets are now on-sale for the upcoming 2016 season and the schedule can be viewed at www.somersetpatriots.com. For more information or to purchase tickets for the 2016 season, stop by TD Bank Ballpark, call (908) 252-0700, or visit www.somersetpatriots.com.

###