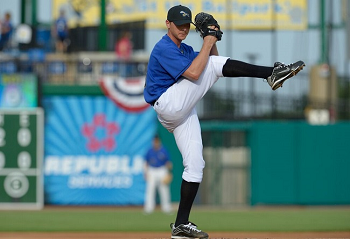 Former Atlantic League hurlers seem to be making news in many ways of late.
Scott Kazmir (Sugar Land) deservedly is at the top of this group since the talented lefty has been awarded the start for Houston in Game 2 of the American League Division Series against Kansas City Friday.
Free agency seems to be the next step for another southpaw, Rich Hill, who went from two starts with Long Island in August to four outings for Boston a few weeks later and came away with a 2-1, 1.55 record with a 0.66 WHIP and 36 strikeouts in 29 innings while facing each of the Red Sox's American League East opponents.
"I'm looking forward to it (free agency)," Hill told WEEI.com. "I've never spoke(n) like this before in the past because for me to be humble is extremely important. But in this part of the game you have to go out and stand up for yourself and that's something I'm looking forward to doing in the offseason. It's confidence. It's going out there and saying, 'I can pitch for anybody, against anybody, anytime, anywhere.' I feel very (full of conviction)."
The success of the 35-year-old Hill should not serve as anything but encouragement to Jarrett Grube, a right-hander who pitched at Southern Maryland in 2009-10 and turns 34 next month but has only one major league game (Los Angeles Angels) to his credit. He pitched in Mexico until June, and has just finished a 9-0, 2.26 run with Cleveland's top farm club in Columbus, OH, as the Clippers won the International League championship.
"It was definitely my best season to date," Grube told KPC Media Group. "I kind of thought what I did this year was going to get me a call-up. According to the Indians, I'm the very next guy they call. The goal is to make it to the majors and stay there."
Grube has been invited to pitch for Team USA in a 12-nation tourney in Japan during November.
Previously the chief spokesman for Commissioners Bowie Kuhn and Peter Ueberroth, Bob Wirz has been writing extensively about the Atlantic League and Independent Baseball since 2003.