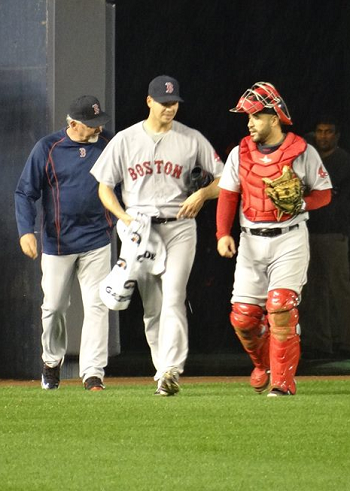 By Michael Polak
The best thing about sports is that it provides the forum for great athletes, and even better people, to provide stories that just make you say, 'Wow.' Baseball especially has seen outstanding players have circumstances, often beyond their control, derail their career and force them to find a way to get back on track. In 2015 no story has been a better one than that of Rich Hill. It has been fun to watch from the stands or read about in the newspapers and online, but to see it from the field and be a part of it in the clubhouse has been something even better.
"His story has been very inspirational for all of us," said Boston Red Sox interim manager Torey Lovullo prior to his start against the New York Yankees on Thursday at Yankee Stadium. "For those of us that know him only as a baseball person, it's a great story because of where he went to. For those of us that know him personally, this is a tough, but also great, story. He's had to walk through a lot of tragedy. All of that rolled up together makes him an incredible person that's easy to root for."
Hill has been through a lot in his professional baseball career that has spanned 14 seasons. He's played with six different teams at the Major League level and countless more in the minor leagues. The left-hander has suffered several injuries, including a back injury with the Cubs in 2009 and a torn UCL that required Tommy John surgery in June of 2011. He also dealt with the heartbreak of losing his newborn son, Brooks, in early 2014 after he was born with "multiple health issues," according to Hill. Throw all of that on top of him being transitioned from a starter to a reliever after 2009 and being released by the Washington Nationals despite posting strong numbers (2-2, 2.95 ERA) at Triple-A Syracuse, and it was clear Hill was looking for a way to turn his career around. That's when the Ducks came calling.
Long Island was looking for a starting pitcher to join their rotation, and Hill had previous success in that role across multiple levels, including the Major Leagues. He took advantage of the opportunity presented, even if it was not with an affiliated ballclub, to try and reinvent himself and showcase his talent to the 30 big league teams. That opportunity ended up changing his career.
"That first start that I had with Long Island, things went well obviously, but I could feel that my mechanics were coming together," noted Hill in an exclusive interview with the Ducks on Thursday. "I felt that I was able to repeat everything, and the more times that you can repeat and have good direction with your release point, the more times you're going to have success."
His strong repetition skills resulted in two marvelous starts with the Ducks where he combined for 11 scoreless innings and 21 strikeouts. The Red Sox immediately took notice and signed him to add some pitching depth. Five starts later, after going 3-2 with a 2.78 ERA at Triple-A Pawtucket, Boston was looking to add a sixth starter to their rotation for September. No one's name came up in the discussion more than Hill's, and he was promoted to the big league club on September 8.
"The talk of a sixth starter worked out perfectly for him," said Lovullo prior to Thursday's game. "He comes in and has just plowed through three teams with 10 strikeouts each outing. That's a habit. That isn't luck. That isn't somebody that's not familiar with the pitcher or his stuff. Everybody knows him, and he's done a great job."
Since his promotion, Hill has made four quality starts. In his first three, he compiled a 2-0 record with a 1.17 ERA and struck out 30 batters in 23 innings. While he managed only six strikeouts in six innings in his fourth start on Thursday, he was still very effective. The southpaw's only hiccup came in the second during a steady rainfall in the Bronx. He allowed a solo homer to Carlos Beltran on a fly ball that probably leaves no other ballpark but Yankee Stadium and then walked two hitters before allowing a two-out RBI single to fall into a 2-0 hole. However, from that point on Hill yielded only two more hits and a walk and finished his night by striking out the side of Alex Rodriguez, Carlos Beltran and Chris Young in the sixth inning.
"The ball came out of my hand the way that I wanted it to, and I continued to make pitches as the game went on," Hill commented after the game. "I think the one pitch, Carlos put a good swing on it and a little bit of Yankee Stadium might have got me there."
As for what enabled him to finish so strongly, his manager stated "He just got into a better rhythm. He wasn't walking around the mound after every pitch. He got more into getting the ball back from the catcher, stepping right back up onto the mound and making his pitch…You could see that it played out very well for him because things really settled down after that second inning.
Unfortunately for the former Duck, his teammates were stifled by a combination of C.C. Sabathia, Adam Warren and Dellin Betances. The trio of Yankees held the Red Sox to just one run and seven hits in New York's 4-1 win that was the 10,000th in franchise history and clinched a playoff berth. For Hill, it meant a hard luck loss, his first since joining Boston this season. Although he was understandably down after his team dropped the series finale, Hill was pleased with the results from Thursday and all four of his starts.
"I threw the ball the way I knew that I could throw it, and that's all I can say really," he reflected. "If you look at the overall body of work, there's a lot to build off of from there, and I'm looking forward to next year."
CLICK HERE to view photos taken by the Ducks during Hill's start.
Not only have Hill and his manager been pleased with the results, but his teammates and opponents have clearly taken notice. From everyone that you talk to, whether they are youngsters making their first mark in the Majors or veterans who have been there for years, his story has captivated the entire organization. Not only that, but it has given a team without a playoff berth a burst of energy to the tune of a 13-9 record since his call-up, including wins in six of their last seven games.
"Rich has been great," said two-time World Series champion Dustin Pedroia. "I've played with him a few times before…and what he's done since he's come back here has been unbelievable. We're all proud of him."
Veteran pitcher Rick Porcello added "He's been our best pitcher the past four starts. He's been throwing the ball incredibly well, so it's definitely helped us succeed as a group."
Yankees manager Joe Girardi noticed one thing that has stood out most in his success. "His command has been tremendous. When you watch the video tape of the games that he has started, his command has been great. He's been on the corners and used different angles with his pitches, so that's what has impressed me."
As for the younger players in the clubhouse, Hill provides a veteran presence that is full of knowledge and experience. While he tries to establish himself back in the big leagues, others seek out his advice to find ways to be successful at the game's highest level.
23-year-old catcher Blake Swihart noted, "I've seen Wade Miley and a bunch of the guys go up to him and say, 'Hey, how do you do this with your curveball? And how do you do that?' He's got such electric stuff, and everything is sneaky."
Swihart went on to recall an everlasting memory from the 35-year-old. "The first time I ever caught Rich, I was 19 years old in Greenville at Low-A and he was rehabbing for the Red Sox at the time. When he came back here, he came up to me and told me, 'Just so you know, when you caught me in your first year of catching ever, I knew you were going to be something special. You worked your butt off to get up here.' That was pretty special coming from him."
Mookie Betts, a 22-year-old outfielder who sealed Hill's complete game shutout against the Orioles on September 25 with a marvelous home run-robbing catch, has appreciated everything he has seen from the lefty. "It's definitely an inspirational story to say the least," he said. "For him to be here now and doing as well as he is, he deserves it."
Rich's story is not one-of-a-kind though in the Red Sox clubhouse. Craig Breslow, a 35-year-old right-handed pitcher, joined the New Jersey Jackals of the independent Northeast League in 2004 after being released by the Milwaukee Brewers. After going 3-1 with a 4.10 ERA, he was signed by the San Diego Padres in March of 2005. He has gone on to spend 10 seasons in the Major Leagues, including five with Boston, and won a World Series ring in 2013. That opportunity might have never come around without independent baseball.
"It's not the most traditional path, but it's certainly one that can get you to where you want to go," said Breslow on Thursday. "Obviously, someone like Rich or even myself having some success in independent ball and then going on to have success in the big leagues I think is indicative of the quality of baseball you can find in independent leagues."
Many, including Lovullo, Pedroia and Porcello, noted the story of Daniel Nava. The 32-year-old outfielder went undrafted out of college and needed a place to continue playing baseball. He ultimately signed with the Chico Outlaws of the independent Golden Baseball League in 2007. After batting .371 there with 12 homers and 59 RBI in 72 games, the Red Sox signed Nava in January of 2008. Since then, he's gone on to spend parts of five seasons in the big leagues, all with the Red Sox until the Tampa Bay Rays claimed him off of waivers from Boston this past August. While he may no longer be with the Red Sox, his story still radiates within their clubhouse.
"I know there are great stories of people that have come out of independent baseball and contributed in a big way to Major League Baseball" affirmed Lovullo. "There is a lot of value with independent baseball and a lot of value with finding the right guys who have reinvented themselves and are getting a chance to play every day. Independent baseball has a strong place in Major League Baseball."
Pedroia added "Baseball has great players everywhere. We had Nava, and he came from independent ball. There are guys all around baseball that have stories which are similar, and it's pretty cool."
Porcello also was a supporter of the Atlantic League. "It's a solid league for sure. You see a lot of guys go and play independent baseball and use that to show what they can do. There's a lot of talent there."
Hill's story is vastly different though because of his journey to the Atlantic League coming at the age of 35 and after he spent a long time in the Major Leagues. When he joined the Ducks in late July, he was unsure of what to expect in terms of the talent and the fan base. What he ended up seeing blew him away completely.
"I think there's a stigma with the Atlantic League and independent leagues that people don't realize how good the talent is there," he said. "Once you actually go to some of the games and sit there and look at the players that are out on the field, I think everyone would be pleasantly surprised."
He went on to state "I'll be forever grateful. I think that's something that I'll always look back on and think about how much fun that was with those guys. The atmosphere on Long Island and the fans there were unbelievable. I think as unexpected as it was, to go in there and see the talent that's there and see the fan base that's there was incredible. I'll forever be a proponent of the Ducks."
As for whether or not he will have a spot in the starting rotation for Boston or one of the other 29 Major League clubs in 2016, Hill believes he has earned that right. "I think that if anybody looks at those four games, four quality starts, that speaks for itself. With the body of work that's been put together here, I don't see why things wouldn't go that way. That's out of my control though. You just see which direction it goes in."
His manager added, "I know that we have had a lot of very positive discussions internally about Rich. He has done everything, and then some, to put himself in a very good position."
No matter how the remainder of his story is written, the most recent chapter has been one heck of a read. It has showcased why the Ducks, the Atlantic League and independent baseball as a whole are so beneficial to Major League Baseball. It has given an outstanding pitcher, and an even better man, the opportunity to resurrect his career and add special memories to his life. Rich Hill's journey from the Major Leagues to the Ducks and back again is one that will go down in the history books as one of the most inspirational and meaningful that professional baseball has ever seen.
Michael Polak is the Director of Media Relations and Broadcasting with the Long Island Ducks. He has spent each of the past six seasons with the organization and is the point person responsible for the Ducks game broadcasts, all media requests, website operations, publicity and communications. He was in attendance at the Red Sox vs. Yankees game where Hill start on October 1, 2015.