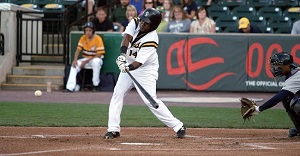 While the battle for playoff berths rightfully draws the most attention in the final 20 days of the season, the Atlantic League is sitting on the brink of at least two exciting player developments.
The sale of York outfielder Jose Constanza to the Tampa Bay Rays brought the league within one more sale of tying its best year ever, which was a whopping 53 two years ago. And if the 32-year-old Constanza joins the parent Rays in a few days, as the Revolution believe will happen shortly after Triple-A Durham, NC ends its season next Monday since Tampa Bay expedited the purchase to make the speedster eligible for its 40-man roster, it will mark the quickest jump of a position player to the majors since the early days of the Atlantic League when the likes of slugger Jose Canseco and Hall of Fame speedster Rickey Henderson went directly to major league teams.
The speed of the 5-foot-9 Constanza is believed to have been a big part of Tampa Bay's interest in the switch hitter, who stole 20 bases and scored 29 times in his 30 games with York. He has a dozen steals in his previous 112 major league games.
"He was an impact type player for us," praised York manager Mark Mason. "He (always) had a plan."
Constanza also had 14 multi-hit games while hitting a team-leading .324 in batting leadoff and helping York push Lancaster for second-half Liberty Division honors.
Previously the chief spokesman for Commissioners Bowie Kuhn and Peter Ueberroth, Bob Wirz has been writing extensively about the Atlantic League and Independent Baseball since 2003.