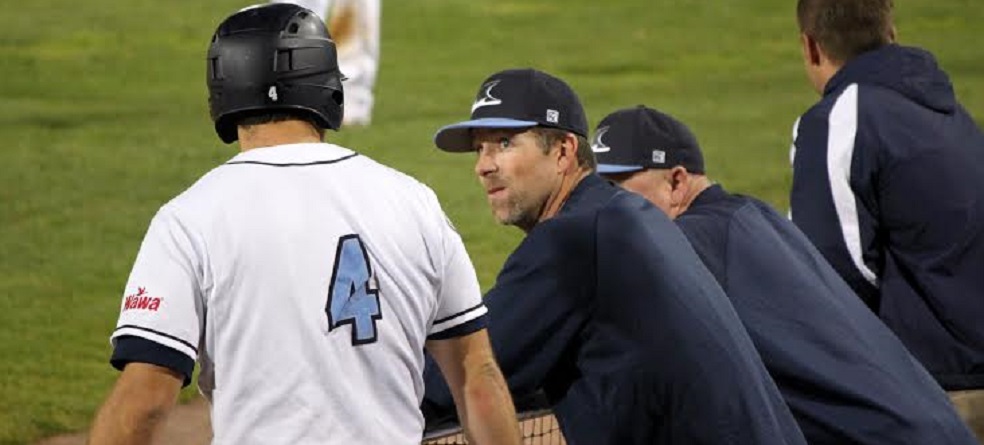 Camden manager Chris Widger got to re-live one of the highlight times of his playing career when he left the Riversharks for a brief time for the 10-year reunion of the World Series championship of the 2005 Chicago White Sox.
Widger had been a major league catcher for all or part of eight seasons (1995-2000, 2002-3) when he suddenly found himself with the Riversharks in '04, hitting 16 home runs and helping them reach the Atlantic League Championship Series. That led to a fresh opportunity with the White Sox where he backed up A. J. Pierzynski for the entire '05 season, hitting .241 in 45 games while catching the likes of Mark Buehrle, Jon Garland and Orlando (El Duque) Hernandez.
"It's a memory you never lose," White Sox Owner Jerry Reinsdorf reminded the players during the reunion, when they celebrated their 11-1 run in the postseason that included a four-game sweep of Houston in the World Series. Each player was driven in from center field separately, took part in a 30-minute pre-game ceremony and had their picture taken in front of the World Series statue at U. S. Cellular Field.
Widger said he hated missing Camden's weekend series at Southern Maryland, "but I can't pass on the opportunity to catch back up with some of the guys in Chicago I have not seen in 10 years."
Previously the chief spokesman for Commissioners Bowie Kuhn and Peter Ueberroth, Bob Wirz has been writing extensively about the Atlantic League and Independent Baseball since 2003. He is a frequent contributor to this site as well as writing his blog, www.IndyBaseballChatter.com.