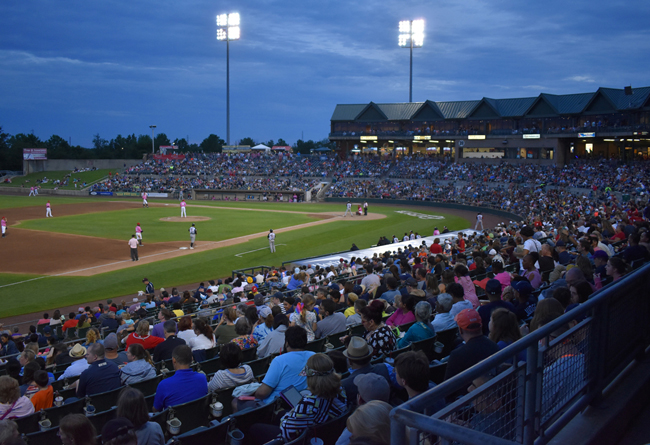 (Bridgewater, N.J., June 18, 2019) - The Somerset Patriots have recently enjoyed a historic run of fan attendance at TD Bank Ballpark – the "Jewel of the Atlantic League."

The Somerset Patriots welcomed six-straight crowds topping 6,000 fans, in a streak stretching from Friday, June 7th through Sunday, June 16th.

"It was a great stretch of games at the ballpark that continued to reinforce the love that our fans and community have for the Somerset Patriots 22 seasons since we were founded," said Steve Kalafer, Chairman Emeritus of the team. "We continue to demonstrate unprecedented real value to Central New Jersey residents and businesses, our marketing partners, and most importantly, our fans."

The recent stretch of impressive above capacity attendances were highlighted by a season-high crowd of 8,205 fans on Saturday, June 15th. The combination of great weather, school coming to a close, Father's Day weekend and postgame fireworks provided the perfect setting for a fun, affordable and safe night out for individuals, families, groups and sponsors.

"Seeing the generations of fans coming out on a beautiful weekend always brings a smile to our faces," said Josh Kalafer, Co-Chairman of the Somerset Patriots. "It's nice to have a place like our ballpark that families know they can come to close to home, enjoy their precious time together, and not break the bank. It's something we are proud to provide as a family and organization."

Somerset currently leads the Atlantic League in attendance by a considerable margin, averaging 5,743 fans over its 23 game days. In total, the Patriots have welcomed in over 130,000 fans to TD Bank Ballpark, where the seating capacity reads 6,100, so far this season.

Additionally, Somerset owns each of the top-six attended ballgames in the Atlantic League this season. That includes the big crowd last Saturday along with Friday, May 10th (6,919 fans), Saturday, May 11th (6,801), Sunday, June 9th (6,763), Friday, June 14th (6,601) and Friday, June 7th (6,581). The York Revolution drew 6,457 fans on Wednesday, May 22nd to rank as the seventh-most attended game in the league this year.

The Somerset Patriots strong attendance numbers have also been highlighted by memorable promotions. Groups, season ticket holders, sponsors and walk-up fans have flocked to the "Jewel of the Atlantic League" for a bevy of postgame fireworks shows, fun giveaways and celebrity appearances. Their experiences have then been heightened by the affordable family-friendly atmosphere, mouth-watering concessions, exhilarating on-field promotions and high-quality baseball on the field.

"It's truly amazing how we continue to grow and serve our fans and community," added Jonathan Kalafer, Co-Chairman of the Somerset Patriots. "Our staff has worked tirelessly on every detail to make sure we plan and execute all we strive to do at the ballpark. It's been a great season so far on and off the field and I know there is a lot more in store this summer."

There are plenty more opportunities to join in with the record-setting crowds with fireworks, fun promotions and exciting baseball continuing all-summer long in Bridgewater. Everything the Patriots have planned can be found on the promotions page of our website by clicking here.

The 2019 Somerset Patriots season presented by Ford continues at home through Thursday, June 20th with three games against the Long Island Ducks. For tickets, stop by the ticket office at TD Bank Ballpark, call us at (908) 252-0700 or visit us online at www.somersetpatriots.com.

About the Atlantic League of Professional Baseball (ALPB)

With eight teams in the Mid-Atlantic and Texas, the ALPB is a leader in baseball innovation and a player gateway to Major League Baseball. Through its exclusive partnership with MLB, the Atlantic League tests Major League Baseball rules and equipment initiatives. The Atlantic League has sent over 900 players to MLB organizations while drawing more than 40 million fans to its affordable, family-friendly ballparks throughout its 22-year history.

For more information, please visit www.atlanticleague.com.

###