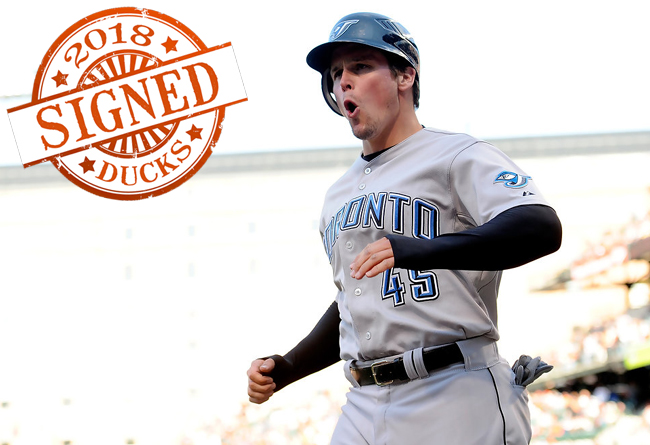 Former first round draft pick joins Long Island Ducks
(Central Islip, N.Y., April 5, 2018) – The Long Island Ducks today announced the signing of eight-year Major League veteran outfielder Travis Snider. He will begin his first season with the Ducks and 13th in professional baseball.

"Travis has excelled at every level throughout his career," said Ducks President/GM Michael Pfaff. "He is a force both offensively and defensively, and his veteran experience will be a great addition to our clubhouse."

Snider played at the game's highest level from 2008 through 2015, spending time with the Toronto Blue Jays (2008-12), Pittsburgh Pirates (2012-15) and Baltimore Orioles (2015). In 630 Major League games, he totaled a .244 batting average, 54 home runs, 212 RBI, 214 runs, 435 hits, 100 doubles and 22 stolen bases. The former first round pick spent 2017 at the Triple-A level with the New York Mets and Texas Rangers organizations, posting a .296 batting average, 10 homers, 52 RBI and 26 doubles in 117 games.

The Washington native made his Major League debut on August 29, 2008 at Yankee Stadium, becoming the youngest position player in MLB at the time. He collected his first big league hit and run scored off New York Yankees pitcher Carl Pavano that night and launched his first big league home run six days later off Minnesota Twins pitcher Kevin Slowey. After the season, he was ranked the sixth-best prospect in baseball by the publication Baseball America. Snider would go on to become the youngest player in Blue Jays history with a two-homer game, accomplishing the feat on April 13, 2009 against Minnesota, and would post double-digit home run totals in 2010 (14) and 2014 (13).

The 30-year-old has earned a slew of honors throughout his professional career. He was selected as a Baseball America All-Star in three consecutive seasons (2006-2008) at the Rookie, Single-A and Double-A levels, respectively. The outfielder was also named a Post-Season All-Star in each of those three seasons and a Mid-Season All-Star in the latter two. In addition, he was chosen as the Short Season Player of the Year in the Appalachian League for 2006. Entering 2018, he boasts a .300 career batting average in the minor leagues with 100 homers, 472 RBI, 449 runs, 801 hits, 179 doubles and a .377 on-base percentage. Snider was originally drafted by the Blue Jays in the first round (14th overall pick) of the 2006 amateur draft.

The Long Island Ducks are members of the Atlantic League of Professional Baseball and play their home games at Bethpage Ballpark. For further information, call (631) 940-DUCK or visit www.liducks.com.

About the Atlantic League of Professional Baseball (ALPB)

The Atlantic League has been a leader in professional baseball and a gateway to Major League Baseball since 1998. Over 38 million fans have attended Atlantic League games and more than 900 players and 50 managers and coaches have joined MLB organizations directly from the ALPB. The Atlantic League emphasizes winning baseball games, showcasing the talent of top-caliber players and offering affordable family entertainment. For more information, please visit www.atlanticleague.com.

###