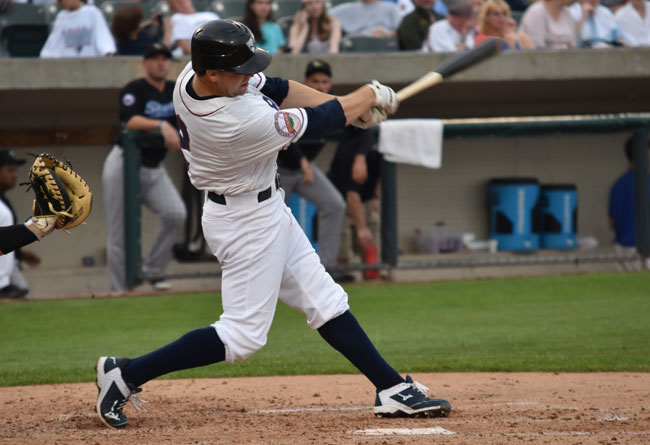 (Bridgewater, N.J. March 7, 2018) - The Somerset Patriots have re-signed infielder and fan favorite Scott Kelly for the 2018 season.

"I'm incredibly grateful to play for this organization," said Kelly. "This is a place I like to call home due to the best fans. A lot of great players have been a part of this organization. I am honored and humbled to be a part of it. Let's play ball!"

Kelly enters his fifth season with the Somerset Patriots and fifth in the Atlantic League. The versatile infielder played in 101 games with the Patriots last year and split time between shortstop, second base and third base. He set a career high in appearances at both second base (44 games) and third base (34 games) while also playing 25 games at short.

At the plate, Kelly hit .250 with one home run, 25 stolen bases and career highs in RBI (31), walks (38) and triples (four). His 25 steals ranked second on the team while he also finished third on the team in at-bats (340) and fourth in runs (52).

The West Windsor, New Jersey native appeared in a career-high 116 games in 2016 and set career marks in hits (102), runs (66), doubles (17), and stolen bases (38) along with a .265 average. The 38 steals led the team and ranked fourth overall in the Atlantic League.

"Scott brings so much passion, energy and desire to our organization," said Somerset Patriots manager Brett Jodie. "He has always been highly motivated to learn and continues to grow as a person and a player. He has so many great qualities about him and others feed off his positive energy. Scott is a gifted infielder, leaves to create havoc on the base paths and puts together professional at-bats. He will compete with a very talented group for playing time but is looking forward to the challenge; he is at his best when he is challenged and under pressure. We are blessed to have 'The Kid' back with us in 2018."

Kelly appeared in just 31 games due to injury in 2015, but still hit .337 with 10 RBI, 20 runs scored and seven stolen bases. Defensively, he made appearances at second base, third base and shortstop.

The College of New Jersey standout began his minor league career with the Somerset Patriots in 2014 after earning an invitation to Spring Training from the team's Open Tryouts. That year, he led the team in stolen bases (20) over his 92 games played.

Kelly hit .345 and .346 in his last two collegiate seasons at TCNJ, respectively. Additionally, he is the all-time leader at TCNJ in at-bats (663) and stolen bases (98), while ranking second in runs scored (165) and fourth in games played (161).

Kelly owns a .249 average with two home runs, 81 RBI, 170 runs and 90 stolen bases over 340 games in his four-year career with the Patriots. The 90 steals are the third-most in franchise history, just 26 shy of tying Michael Warner for second on the all-time list (116). The Somerset Patriots led the Atlantic League in attendance and made their 14th appearance in the playoffs last season.

The Somerset Patriots will welcome their 7,000,000th fan in their 20th season at TD Bank Ballpark in 2018. Tickets are now on sale for the 2018 Season presented by Ford beginning at home on Friday, April 27th. For more information, please visit www.somersetpatriots.com.

About The Atlantic League of Professional Baseball (ALPB)

The Atlantic League has been a leader in professional baseball and a gateway to Major League Baseball since 1998. Over 38 million fans have attended Atlantic League games and more than 900 players and 50 managers and coaches have joined MLB organizations directly from the ALPB. The Atlantic League emphasizes winning baseball games, showcasing the talent of top-caliber players and offering affordable family entertainment.

For more information, please visit www.atlanticleague.com.

###