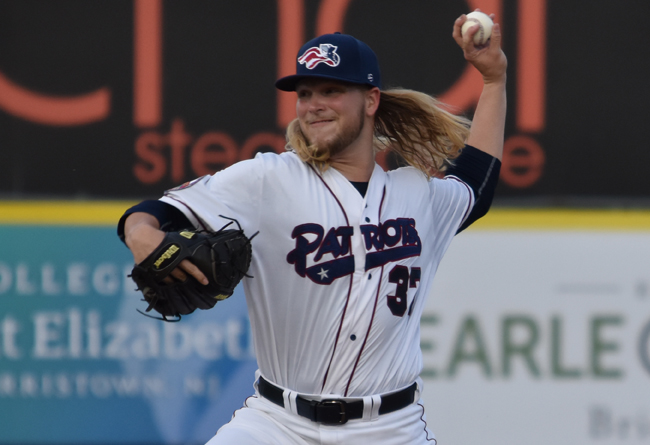 (Bridgewater, N.J., Feb. 20, 2018) - The Somerset Patriots have re-signed 2017 Atlantic League All-Star left-handed pitcher Rick Teasley for the 2018 season.

"Moving to the Atlantic League and joining the Patriots last year changed my career," said Teasley. "[Somerset] is the best place to play in the Atlantic League. This year I have something to prove. I had a strong half of a season last year, but my goal this year is to have a good, strong full season and make the playoffs with these guys."

Teasley enters his second year with the Somerset Patriots and second season in the Atlantic League. The gold-haired southpaw enjoyed a breakout season in Somerset last year, posting a 7-2 record with a 2.85 ERA over 14 appearances (10 starts). Teasley went 2-0 and allowed just one run over his first four appearances (0.75 ERA) as a reliever before he transitioned into the starting rotation.

From there, the Port St. Lucie, Florida native shined. Teasley went 5-2 over 10 games as a starting pitcher and was selected as the starting pitcher for the Liberty Division in the 2017 Atlantic League All-Star Game. He tossed a scoreless, perfect inning to begin the festivities at TD Bank Ballpark.

At the time of the All-Star Game, the southpaw was tied for the league-lead in wins (7) and ranked sixth in the league in ERA (2.85). Additionally, Teasley yielded just 14 walks over his 75.2 innings pitched with the Patriots (including 11 walks over 10 games started).

His contract was purchased by ChinaTrust Brothers (Taiwan) on July 17th, where he finished his 2017 season.

"We are extremely excited to have Teasley rejoin our team again," said Somerset Patriots manager Brett Jodie. "Rick really came in last year and showed a great understanding of how to pitch. He seemed very polished for a younger guy but still continued to learn and grow into one of the league's best. Teasley will be a big part of our team on and off the field again this year."

Prior to 2017, Teasley had pitched for three seasons with the Southern Illinois Miners of the Frontier League, totaling a 28-14 record with a 3.67 ERA in 57 starts. He went 8-5 over 17 starts and finished third in the league in complete games (three) with the Miners in 2016.

The St. Leo College alumnus impressed in 2015 with Southern Illinois as well with a 9-4 record over 20 starts with a 2.78 ERA. Additionally, he finished third in the league in innings pitched (126.1) and fourth in strikeouts (105) that season.

Teasley also led the Frontier League in wins (11) in 2014. In his three seasons with the Miners, he became the franchise's all-time leader in starts, innings pitched and shutouts. He also tossed the first no-hitter in team history on June 5th, 2014.

The 26 year-old began his career in the Tampa Bay Rays organization, where he tossed a 2.61 ERA over 41.1 innings of work split between Rookie-level Princeton and Short-Season Hudson Valley. He owns a career 38-20 record and a 3.44 ERA over five seasons of professional baseball stateside.

The Somerset Patriots led the Atlantic League in attendance and made their 14th appearance in the playoffs last season. The Somerset Patriots will welcome their 7,000,000th fan in their 20th season at TD Bank Ballpark in 2018. Tickets are now on sale for the 2018 Season presented by Ford beginning at home on Friday, April 27th. For more information, please visit www.somersetpatriots.com.

About The Atlantic League of Professional Baseball (ALPB)

The Atlantic League has been a leader in professional baseball and a gateway to Major League Baseball since 1998. Over 38 million fans have attended Atlantic League games and more than 900 players and 50 managers and coaches have joined MLB organizations directly from the ALPB. The Atlantic League emphasizes winning baseball games, showcasing the talent of top-caliber players and offering affordable family entertainment.

For more information, please visit www.atlanticleague.com.

###