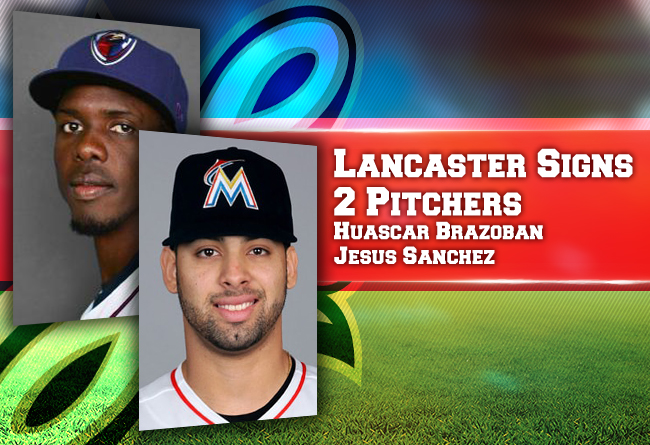 Right-handers Brazoban, Sanchez added to relief corps

(Lancaster, Pa., Feb. 12, 2018) - The Lancaster Barnstormers have added right-handers Huascar Brazoban and Jesus Sanchez to their bullpen, it was announced today by manager Ross Peeples.

That brings the total number of players signed and active for the upcoming campaign to 13.

Brazoban, 28, spent the past six seasons in the Colorado Rockies organization. He appeared in 99 games total, all in relief, compiling a 4-4 record and 5.06 ERA. The native of the Dominican Republic peaked at Class AA Hartford last season, working in 24 games for the Yard Goats, after starting the year as the closer for Class A Lancaster of the California League. He had saved five games in 13 appearances with the Jethawks.

"We were given Brazoban's name and checked up on him," said Peeples. "He has a plus-plus arm and a lot of potential. We are looking forward to seeing what he can bring to the table in spring training."

Sanchez, 30, is a former starting pitcher in the Phillies minor league system, that later went on to pitch for the Milwaukee Brewers and Miami Marlins on the farm. The Venezuela native went 19-13 at the Class A level in 2009-10 for the Phillies. His best season came in 2012, when he went 7-3 with a 1.63 ERA over 52 appearances for Class AA Huntsville and Class AAA Nashville while in the Milwaukee system.

He spent the entire season with Nashville in '13, putting together a strong campaign with a 4-3 record, seven saves and a 2.83 ERA in 48 games. In 2014, Sanchez moved over to the Marlins, appearing in 23 games for Class AAA New Orleans with an 0-5 record.

Despite pitching in Venezuela the last four winters, he has not appeared in the US since that 2014 season. He was 1-0 with a save and a 3.23 ERA in 28 appearances for Lara this winter.

"We talked to Sanchez a little last year," said Peeples. "He was coming off an injury and wasn't quite ready. He called back this year and said he is ready to go. He has a pretty good track record and is supposedly back to throwing in the low-to-mid 90's."

"Both of these guys reportedly have really good arms," Peeples continued. "I'm excited to see them in camp."

About the Lancaster Barnstormers

The Lancaster Barnstormers have completed their thirteenth season as a member of the Atlantic League of Professional Baseball. Home games are played at Clipper Magazine Stadium in downtown Lancaster, Pennsylvania. Please call 717.509.HITS (4487) or visit www.lancasterbarnstormers.com for more information.

About the Atlantic League of Professional Baseball (ALPB)

The Atlantic League has been a leader in professional baseball and a gateway to Major League Baseball since 1998. Over 38 million fans have attended Atlantic League games and more than 900 players and 50 managers and coaches have joined MLB organizations directly from the ALPB. The Atlantic League emphasizes winning baseball games, showcasing the talent of top-caliber players and offering affordable family entertainment.

For more information, please visit www.AtlanticLeague.com.

###