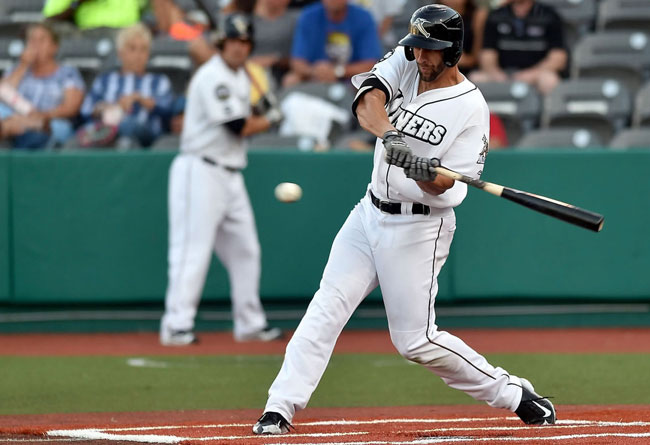 (Bridgewater, N.J., Feb. 9, 2018) - The Somerset Patriots have signed two-time Frontier League All-Star infielder Craig Massey for the 2018 season.

"I'm really looking forward to this great opportunity," said Massey. "From what I've seen, there are some pretty great players that have played in Somerset in the past. Just getting a chance with a team like this, that is ready to compete for a championship, is really special. I can't wait to get in and get started."

Massey enters his first season with the Somerset Patriots and first in the Atlantic League. He has spent the past three seasons in the Frontier League, including the last two-plus seasons with the Southern Illinois Miners. The 6'2" right-handed batter split the 2015 season between the Schaumburg Boomers and Miners. That season, Massey hit a combined .286 with six home runs, 45 RBI and a career-high 23 stolen bases.

The Bells, Tennessee native earned All-Star selections in each of the last two seasons with Southern Illinois. Massey hit .295 with five home runs and 40 RBI in 2016 before he hit .289 with two home runs and 43 RBI in 2017. Massey also stole a combined 31 bases over his last two years.

Massey hit .289 with 13 home runs, 128 RBI and 54 stolen bases over his three seasons in the Frontier League.

"Massey will be a valuable member of our squad this year," said Somerset Patriots manager Brett Jodie. "Craig brings much versatility as he can play almost anywhere on the field. He is a young player but he brings some veteran qualities with him in his plate discipline. Massey is willing to do whatever it takes to help the team win. We need guys like him here and are happy to have him as part of our Patriots family."

The Faulkner University alumnus began his professional career with the Sante Fe Fuego of the Pecos League in 2014. He finished second in the league in batting (.465) and RBI (80) with eight home runs and a .522 on-base percentage over 58 games that season.

Massey owns a .323 batting average with 21 home runs, 208 RBI, 63 stolen bases and a .401 on-base percentage over his four-year professional career.

The Somerset Patriots led the Atlantic League in attendance and made their 14th appearance in the playoffs last season. The Somerset Patriots will welcome their 7,000,000th fan in their 20th season at TD Bank Ballpark in 2018. Tickets are now on sale for the 2018 Season presented by Ford beginning at home on Friday, April 27th. For more information, please visit www.somersetpatriots.com.

About The Atlantic League of Professional Baseball (ALPB)

The Atlantic League has been a leader in professional baseball and a gateway to Major League Baseball since 1998. Over 38 million fans have attended Atlantic League games and more than 900 players and 50 managers and coaches have joined MLB organizations directly from the ALPB. The Atlantic League emphasizes winning baseball games, showcasing the talent of top-caliber players and offering affordable family entertainment.

For more information, please visit www.atlanticleague.com.

###