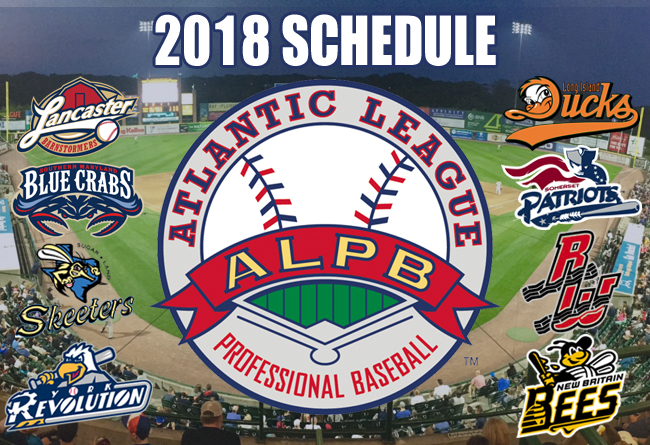 Championship Season to begin on April 26, culminate on September 16
(Lancaster, Pa., Oct. 23, 2017) – The Atlantic League of Professional Baseball (ALPB) today announced its Championship Season Schedule for 2018. The league's 21st season of play will feature eight member clubs: the Long Island Ducks, New Britain Bees, Road Warriors and Somerset Patriots in the Liberty Division; and the Lancaster Barnstormers, Southern Maryland Blue Crabs, Sugar Land Skeeters and York Revolution in the Freedom Division.

"We are excited to announce our schedule and look forward to what should be an outstanding Championship Season in 2018," said League President Rick White. "The Atlantic League saw 55 player contracts purchased by Major League organizations and foreign professional leagues during the 2017 season, and we expect more of the same next year."

The 2018 season will feature a 126-game schedule that begins on Thursday, April 26. Opening Day will feature the defending Atlantic League champion Revolution hosting their championship ring and banner raising ceremony at PeoplesBank Park against the rival Barnstormers. The league's other six teams will begin play on Friday, April 27 with the two-time defending Liberty Division champion Ducks visiting the Blue Crabs, the Skeeters hosting the Bees and the Patriots welcoming in the Road Warriors.

Following are the dates for each team's Season Opener and Home Opener:

| | | |
| --- | --- | --- |
| TEAM | SEASON OPENER | HOME OPENER |
| Lancaster Barnstormers | April 26 at York | May 4 vs. York |
| Long Island Ducks | April 27 at Southern Maryland | May 4 vs. Southern Maryland |
| New Britain Bees | April 27 at Sugar Land | May 4 vs. Road Warriors |
| Road Warriors | April 27 at Somerset | N/A |
| Somerset Patriots | April 27 vs. Road Warriors | April 27 vs. Road Warriors |
| Southern Maryland Blue Crabs | April 27 vs. Long Island | April 27 vs. Long Island |
| Sugar Land Skeeters | April 27 vs. New Britain | April 27 vs. New Britain |
| York Revolution | April 26 vs. Lancaster | April 26 vs. Lancaster |

The Road Warriors will enjoy the distinction of playing each of their games on the road. The league has utilized the Road Warriors in a number of seasons past, most recently in 2011. The League expects to return to a full complement of eight home communities in 2019.

The 21st Annual Atlantic League All-Star Game will take place on Wednesday, July 11. This year's midsummer classic will be hosted by Long Island at Bethpage Ballpark in Central Islip, N.Y. 2018 marks the third time the Ducks will host the All-Star Game, previously doing so in 2002 and 2010.

The ALPB schedule is divided into two 63-game halves, with the first half ending on Thursday, July 5 and the regular season ending on Sunday, September 16. The first half and second half champions in each division will qualify for 2018 Atlantic League playoffs. Should one or both teams win each half in their respective division, a wild card scenario comes into play where the team(s) with the next best overall record, regardless of division, qualifies for the postseason. Both Division Championship Series matchups will take place the week of September 17, with the Atlantic League Championship Series occurring during the week of September 24.

To view each club's 2018 regular season schedule, please visit their respective websites.

About The Atlantic League of Professional Baseball (ALPB)

The Atlantic League has been a leader in professional baseball and a gateway to Major League Baseball since 1998. Over 38 million fans have attended Atlantic League games and more than 900 players and 50 managers and coaches have joined MLB organizations directly from the ALPB. The Atlantic League emphasizes winning baseball games, showcasing the talent of top-caliber players and offering affordable family entertainment to metropolitan markets serving nearly 15% of the US population.

For more information regarding the Atlantic League, please visit www.atlanticleague.com.

###