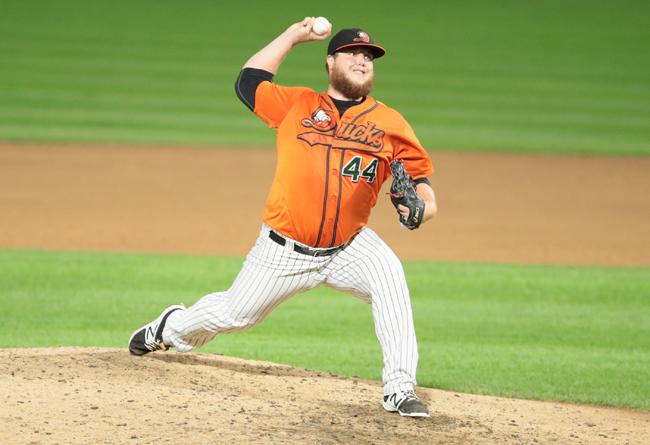 Strong start from Larkins, dominant performance by bullpen lift Ducks over Patriots

(Central Islip, N.Y., Sept. 21, 2017) – The Long Island Ducks defeated the Somerset Patriots 4-1 on Thursday night in Game Two of the Liberty Division Championship Series at Bethpage Ballpark. The best-of-five series is now tied at one game apiece.

Long Island took an early 1-0 lead on Lew Ford's first-inning RBI single through the left side, which scored Giovanny Alfonzo. Two more runs in the fourth off Patriots starter Mike Antonini extended the advantage to 3-0. A wild pitch that scored Alex Burg and a two-out RBI single to left field by Elmer Reyes did the damage.

Somerset closed to within two in the fifth on a two-out RBI single to center by Kyle Roller off Ducks starter Matt Larkins. David Vidal then hit a grounder up the middle with the tying runs on, but Dan Lyons made a diving stop and got the force out at second base to end the inning.

The Patriots threatened again in the sixth, collecting a single and two walks with two outs to force Larkins from the game. However, Rob Rogers came in and got Alfredo Rodriguez to fly out to right, ending the threat. Burg followed with a leadoff solo homer to right field in the bottom of the sixth off Patriots reliever Lucas Irvine to put the game out of reach.

Larkins (1-0) earned the win, pitching five and two-third innings of one-run ball, allowing four hits and seven walks while striking out four. Antonini (0-1) took the loss, yielding three runs on seven hits and a walk in four innings with four strikeouts. Amalio Diaz earned his first save of the postseason with a scoreless ninth inning.

Burg led the Flock at the plate with three hits, an RBI and two runs scored. Five Ducks relievers combined to give up just two hits in three and one-third scoreless innings while striking out three.

The Liberty Division Championship Series now shifts to Bridgewater, N.J. for Game Three on Friday night. Game time is slated for 7:05 p.m. from TD Bank Ballpark. Fans can follow all the action on the Long Island Ducks Broadcast Network. Live streaming HD video and audio will be available via BoxCast on the Ducks' official Facebook page, YouTube channel and at LIDucks.com. Left-hander Jake Fisher (0-0, 2.76) gets the start for the Ducks against Patriots righty William Oliver (8-6, 4.78).

The Long Island Ducks are members of the Atlantic League of Professional Baseball and play their home games at Bethpage Ballpark. For further information, call (631) 940-DUCK or visit www.liducks.com.

About the Atlantic League of Professional Baseball (ALPB)

The Atlantic League has been a leader in professional baseball and a gateway to Major League Baseball since 1998. Over 38 million fans have attended Atlantic League games and more than 800 players and 50 managers and coaches have joined MLB organizations directly from the ALPB. The Atlantic League emphasizes winning baseball games, showcasing the talent of top-caliber players and offering affordable family entertainment to metropolitan markets serving nearly 15% of the US population.

For more information, please visit www.atlanticleague.com.

###