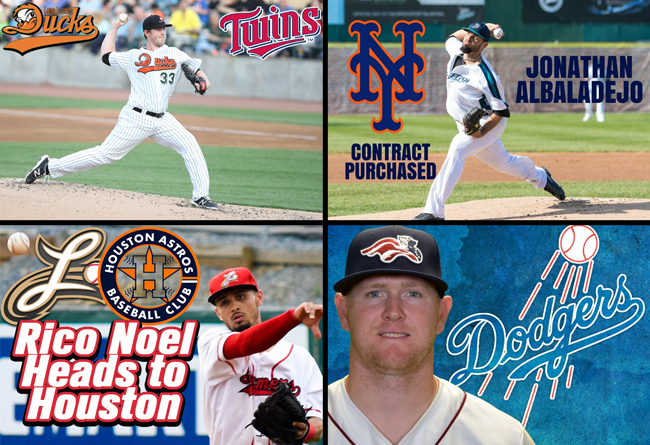 League reaches milestone number in 20th Anniversary Season

The Atlantic League of Professional Baseball (ALPB) had more than 50 player contracts purchased by Major League Baseball or international professional organizations during the 2017 season. The contract purchases amount to great than 25% of the ALPB league-wide rosters.

"The talent featured on the rosters of our eight member clubs was tremendous this season," said League President Rick White. "The level of play was very competitive since Opening Day, and ballclubs outside our league have certainly been taking notice."

Among the over 50 player contracts, greater than 40 have been purchased by Major League organizations, with the remainder by the Mexican League and Chinese Professional Baseball League. Left-handed pitcher Logan Darnell (Somerset) and infielders Olmo Rosario (Somerset) and Rico Noel (Lancaster) have each had their contract purchased twice during the year.

The Somerset Patriots had the most player contracts purchased with 17 total, including 12 by MLB clubs. Right-handed pitcher Tyler Cloyd returned to "The Show" less than one month after his contract was purchased by the Seattle Mariners. 12 player contracts from the Lancaster Barnstormers have been purchased as well, including 11 to Major League organizations. Three members of the Long Island Ducks all returned to the Major Leagues this season after having their contract purchased (Tim Melville, Twins and Padres; Quintin Berry, Brewers; and Henderson Alvarez, Phillies).

The Seattle Mariners currently lead all MLB teams by having purchased seven Atlantic League player contracts. Trailing them slightly are the San Francisco Giants with six and both the Los Angeles Dodgers and Arizona Diamondbacks with five each. 17 players have gone straight to Triple-A after having their contract purchased.

CLICK HERE to view the complete list of 2017 Atlantic League player contract purchases

About The Atlantic League of Professional Baseball (ALPB)

The Atlantic League has been a leader in professional baseball and a gateway to Major League Baseball since 1998. Over 38 million fans have attended Atlantic League games and more than 800 players and 50 managers and coaches have joined MLB organizations directly from the ALPB. The Atlantic League emphasizes winning baseball games, showcasing the talent of top-caliber players and offering affordable family entertainment to metropolitan markets serving nearly 15% of the US population.

For more information, please visit www.atlanticleague.com.

###