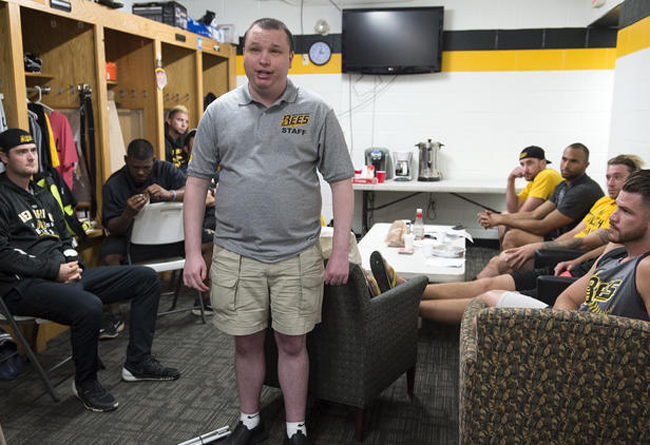 By: Jeff Jacobs

Bryce Weiler stood in the New Britain Bees clubhouse Friday afternoon, stood among independent league players with stubborn dreams of one day playing in the majors. Weiler told the guys who he was and what he stood for and what he wanted to accomplish in his new job with the team.

And then he paused.

"Every day I walk over to pick up my cane from the corner and some days that can be the hardest walk of my day," Weiler said. "It makes me realize I might never be able to live my ultimate dream."

It is at that moment you expect Weiler to tell the players of his dashed childhood dream of playing in the big leagues or his far-fetched teenage dream of one day broadcasting in the majors.

"My ultimate dream," he said, "of being able to see."

Weiler, 26, took a four-hour train ride from Effingham, Ill., to Chicago and then took Amtrak all the way to Springfield for $125. Put up the foot rest, pushed his seat back and rode the rails.

"I arrived Sunday, just me, my two suitcases and my computer," Weiler said Friday.

It is no stretch to say this young blind man arrived in Connecticut with great vision. He was born with retinopathy of prematurity, a disorder where abnormal blood vessels grow throughout the retina. He has never seen more than shadows and some light.

Yet blindness isn't the first thing that strikes you about Weiler.

It is his attention to time, to punctuality, as if he savors every tick of the clock.

It is his attention to the smallest details and his fountain of sports knowledge.

It is his push and perseverance to meet and befriend so many notable coaches and managers. It is his perseverance to become a sports announcer, and when that plan stalled, a determination to fundamentally change the fan experience for disabled people.

Weiler, who got his undergraduate degree at the University of Evansville, started out doing radio commentary in 2011 on women's basketball games. He did soccer, baseball and softball. His first men's basketball game was Evansville and Miami (Ohio) in 2013. He did some Peoria Chiefs Class A minor league baseball games. He did games at Western Illinois, where he got his master's degree in sports management. Diligent in his homework, digging a great well of knowledge, he has broadcast more than 100 games.

On this day, Weiler talked about how he can shoot basketballs at rims and, by hearing how they bounce, can tell if the rims are loose or tight for games. Depending on how good microphones are, he can hear a ball bounce off a catcher's chest protector and judge how a ball comes off a wooden bat. Not aluminum, though; they all sound the same.

Weiler talked about listening to thousands and thousands of games on the radio, never television, because TV announcers don't have to describe exactly what's happening. Pictures do that for them. Weiler talks about how he especially enjoys listening to Pat Hughes on Cubs games and John Rooney on Cardinals games. He talks about how he has listened to Joe D'Ambrosio do UConn games since the Big East signed a deal with XM in 2008.

And then Weiler, who has gained some publicity for his broadcasting, stops and says, "While I'm enjoying talking commentating with you, I also think the program I'm making for disabled fans and giving them an opportunity to play on the field are important. These are things not many teams are doing. I can go find you more boring commentators. I can show you five articles right now on how I commentate.

"I've done enough commenting, so I realize it is going to be hard for me to find a job analyzing games on the radio. I'm happier doing my job for disabled fans."

One of an avalanche of emails Weiler sent out caught the eye of John Angelos of the Baltimore Orioles. He was brought into Camden Yards and the team's spring training complex in Sarasota, Fla., and made a number of disability-focused suggestions that impressed the club.

Looking to build community ties at New Britain Stadium, Anthony Iacovone, who acquired majority stake in the Bees in April, got an email from Weiler and was impressed.

"We're all going to learn from Bryce," Bees GM Gerry Berthiaume said. "I really believe he can enhance experiences and reach the community."

He has been working to help make sure New Britain Stadium is accessible for all disabled fans. He has found a few items that needed to be fixed and they are being addressed. He has put together a program to give disabled fans opportunities to play on the field before games. Hit some balls, run, play catch. The first event is scheduled for July 1 and there are 10 in all.

"I'm director of nonprofit called Beautiful Lives Project," Weiler said. "It uses sports as a vehicle to enable disabled fans to have better experiences at sporting events and help them overcome obstacles in their life.

The Bees will give tours to blind and partially blind fans so they can familiarize themselves with the park. They will install tactile strips on concrete flooring. There will be menus in Braille. For deaf fans, there will be people to translate public address announcements. For people with autism, there will be noise-canceling headphones and fidget spinners that keep autistic children's hands busy.

"I'll also visit hospitals and schools," Weiler said. "Disabled individuals already have so many things standing in their way. Getting them playing on the field, it helps them realize people really care for them.

"I think it can help change people's lives."

And that's what Weiler later told the players in his speech. He asked them not to take one day for granted, but also not to take for granted what kind of impact they can have on a disabled person. He asked them to join in with them pregame and he hoped they didn't mind if some of the other team did, too.

He so persistent, so persuasive, it's impossible to imagine guys saying no.

Weiler is friends with Louisville coach Rick Pitino. He is friends with Celtics coach Brad Stevens. His is friends with Pirates manager Clint Hurdle. He is friends with Twins manager Paul Molitor. Hurdle's daughter, Madison, has Prader-Willi syndrome and he has enjoyed hearing about the work Weiler is doing with disabled fans. He's friends with Twins bench coach Joe Vavra, whose son is blind in one eye.

Weiler is friends with Temple coach Fran Dunphy and St. Joe's coach Phil Martelli. The list seems endless. In all, he counts 87 college basket coaching friendships.

How'd you do it?

"Email," Weiler said.

In case you doubt it, he pulls out a Louisville national championship ring and pieces of Final Four nets from Louisville and Stevens' Butler team. He's a friend-making machine. He already has lined up UConn baseball coach Jim Penders to play with the disabled. You mention Wichita State joining the AAC and he mentions how his friend, coach Gregg Marshall, has a complete set of false teeth after getting his knocked out playing basketball.

"I touched them," Weiler said. "They're pretty nice, almost feel natural."

Before he spoke to the Bees, he explained how he had spoken to more than 60 teams. The Valparaiso basketball team was the first. He spoke to Murray State when Steve Prohm, now at Iowa State, was there. At the end of his speech, Weiler shows how he can use his cane to find someone at the other end of the locker room just by having that person shout out to him. And then he gives the cane to a player and has him close his eyes and try. As the Bees demonstrated Friday, it's hard.

"I once gave the cane to Isaiah Canaan when he was with Murray State and he ended up walking right into the wall," Weiler said. "Isaiah is not so good at using a cane. He's good enough with a basketball though to play for the Chicago Bulls."

Weiler commented for nine innings with Bees play-by-play announcer Chris Knoblock on Friday night. He said he'll do radio whenever the Bees want him. That's not his focus, though. "This is where you want me to say my dream is to work for the Yankees, right?" Weiler said. "I want to go for work for whatever team or company wants to let me make these programs for disabled fans and hire disabled individuals and make these programs the best they can me."

They can all expect emails.

http://www.courant.com/sports/baseball/hc-jacobs-column-blind-announcer-0610-20170609-column.html