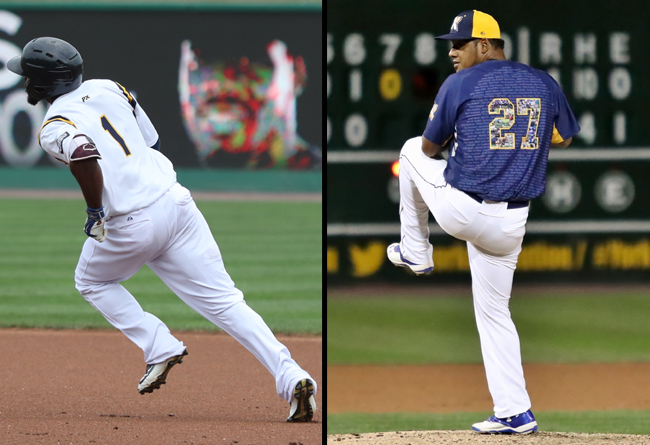 Last year's leader in stolen bases, former Oriole come back to York for 2017

(Photos courtesy of Joe Doll)

(York, Pa., March 15, 2017) - The York Revolution have announced three more signings for the 2017 season, bringing back outfielder Travis Witherspoon and long-time Revs pitcher Julio DePaula, while also signing left-handed relief pitcher Luke Westphal. The signings were announced by Revs manager Mark Mason Tuesday evening on "Revs Hot Stove Weekly presented by Shipley Energy" on SportsRadio 1350 WOYK.

Witherspoon came to the Revs in a midseason trade with Lancaster last season, which sent pitcher Kelvin De La Cruz to the Barnstormers. In 81 games with York Witherspoon led the team in stolen bases (34), and finished third on the team in batting average (.293), tied for third in triples (3), and was fourth in walks (36). Witherspoon also represented the Freedom Division in the Atlantic League All-Star game.

"I don't know if we win the half without him," said Mason on WOYK. "He was a pretty big contributor for us, he hit some key home runs…he did come through with some big, big hits, and he played outstanding defense."

A native of Sumter, SC, Witherspoon was originally drafted by the Los Angeles Angels in the 12th round of the 2009 draft out of Spartanburg Methodist College. Witherspoon enters his 9th professional season after stints in the Angels, Mariners, and Dodgers systems, making it as high as Double-A.

"I think the number one thing that made me want to come back was the comradery and chemistry that we had," said Witherspoon. "I think we feel like we have some unfinished business, and with a lot of guys coming back along with the new additions, this is a great team to make another run at it."

DePaula returns for his fifth season in York, where he currently ranks 4th in Revolution history for appearances by a reliever, and 5th in appearances overall. In 2016 he ranked 4th in appearances with 42 out of the bullpen, going 2-1 with an ERA of 4.74. DePaula also tossed a scoreless inning of relief in the playoffs, striking out two.

"I think the fans enjoy seeing guys come back that have been successful, and are successful," Mason said. "Julio is a great teammate as well, which is something I say about almost all of our guys because we do pride ourselves on having good guys and having fun in the clubhouse, and when you do those kind of things it translates out on the field."

DePaula, who came up through the Minnesota Twins system, worked his way all the way to the Majors, making his debut on May 16, 2007, tossing a scoreless inning of work against the Cleveland Indians. After excelling as one of the Atlantic League's top relievers during his first season with York in 2013, DePaula was dominant during the first half of the 2014 season, earning a contract with the Baltimore Orioles. It took just 11 days after signing with Baltimore for DePaula to earn a call-up back to the Majors, marking the fastest ascension from York to MLB in Revolution franchise history. It also completed a seven-year big league comeback.

Westphal began his career in the Frontier League in 2013 and 2014, before signing as a free agent with the Minnesota Twins to begin the 2015 campaign. The 27-year-old Wisconsin native made it as high as Double-A with the Twins last season. The lefty reliever has a propensity for the strikeout, punching out 150 batters in 150 innings of work in the Twins system. He is also especially tough against left handed hitters, with lefties hitting just .190 against him the last two seasons. Overall, the four-year pro is 12-13 with a 3.15 lifetime ERA.

"The thing I like about him, is a lot of strikeouts," said Mason. "He's a young guy with a power arm, and he's a guy I think we can help. I know Luke's excited about coming here, and we're excited about having him."

The Revs now have 18 players signed for the upcoming season and will continue to unveil preseason signings live each week on "Revs Hot Stove Weekly presented by Shipley Energy," with the next episode set to air on Tuesday, March 21, at 6:30 p.m. immediately following "The Baltimore Baseball Show" on SportsRadio 1350 WOYK.
About the York Revolution

The York Revolution Professional Baseball Club is a member of the Atlantic League of Professional Baseball. The Revolution were Atlantic League Champions in 2010 and 2011. The 2017 season will be the team's 11th. Located at 5 Brooks Robinson Way, PeoplesBank Park hosts all 70 home games, in addition to myriad events through the entire calendar year. For tickets or more information, please call 717-801-HITS (4487) or visit the Revolution online at www.YorkRevolution.com.

About the Atlantic League of Professional Baseball (ALPB)

The Atlantic League has been a leader in professional baseball and a gateway to Major League Baseball since 1998. Over 36 million fans have attended Atlantic League games and more than 800 players and 50 managers and coaches have joined MLB organizations directly from the ALPB. The Atlantic League emphasizes winning baseball games, showcasing the talent of top-caliber players and offering affordable family entertainment to metropolitan markets serving nearly 15% of the US population.

For more information, please visit www.AtlanticLeague.com.

###