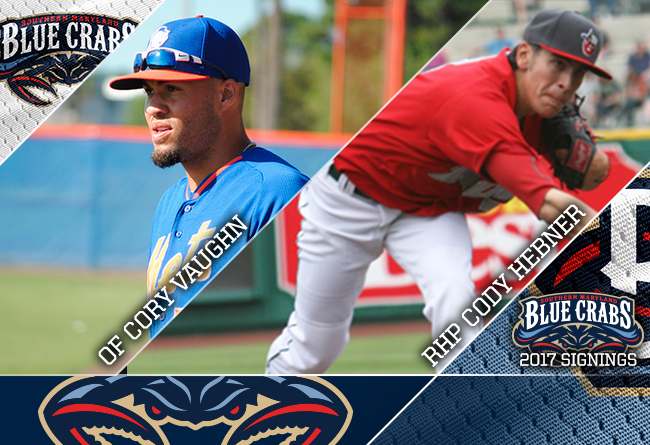 Cory Vaughn and Cody Hebner join the 10th Anniversary Season roster

(Waldorf, Md., March 2, 2017) – The Blue Crabs announced the signing of outfielder Cory Vaughn and right-handed pitcher Cody Hebner to the 2017 10th Anniversary roster on Thursday.

Cory Vaughn joins the Blue Crabs after a five-year stint in the New York Mets organization from 2010 to 2015 and a season with the New Jersey Jackals of the Canadian-American Association in 2016. The 27-year-old California native was drafted in the fourth round by the Mets in 2010 out of San Diego State University. Vaughn has a career .346 on-base percentage and career .246 batting average. He has played the majority of his career in right field with a stellar .974 fielding percentage. The 2017 season will mark his first season in the Atlantic League.

Cody Hebner joins the Blue Crabs and the Atlantic League for the first time after a four-year stint in the San Diego Padres organization from 2011 to 2015 and a season with the Texas AirHogs of the American Association in 2016. The right-handed pitcher from Auburn, Washington has experienced bullpen roles such as set-up pitcher and closer. He has 434 career strikeouts with only 226 walks, earning him a valuable 1.92 strikeout to walk ratio for his career.

"Vaughn and Hebner are great adds to the club," said Manager John Harris. "They both have a positive attitude towards the game and will be a great asset to the team and community."

The Blue Crabs open up the 2017 season versus the Long Island Ducks on Thursday, April 20, 2017. To buy tickets for the upcoming season and to learn about other team news, visit www.somdbluecrabs.com or call 301-638-9788.

About the Southern Maryland Blue Crabs

The Blue Crabs play 140 regular season games in the Atlantic League of Professional Baseball Clubs. The Blue Crabs play at Regency Furniture Stadium in Waldorf, Maryland with affordable family fun. The franchise will open its tenth anniversary season on Thursday April 20, 2017. Please call 301-638-9788 or visit http://www.somdbluecrabs.com for more information and to reserve your seat at the ballpark today!

About the Atlantic League of Professional Baseball (ALPB)

The Atlantic League has been a leader in professional baseball and a gateway to Major League Baseball since 1998. Over 36 million fans have attended Atlantic League games and more than 800 players and 50 managers and coaches have joined MLB organizations directly from the ALPB. The Atlantic League emphasizes winning baseball games, showcasing the talent of top-caliber players and offering affordable family entertainment to metropolitan markets serving nearly 15% of the US population.

For more information, please visit www.AtlanticLeague.com.

###