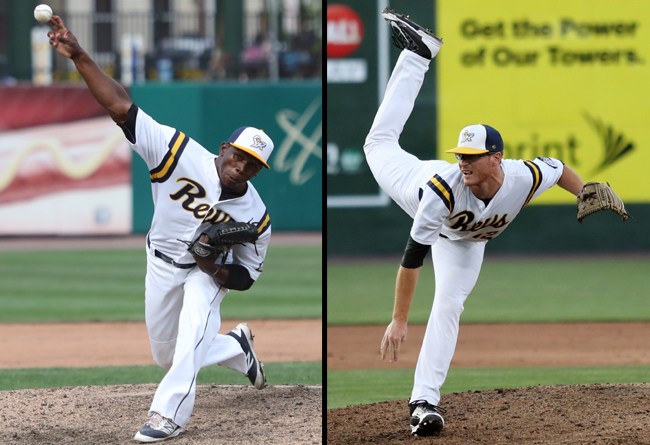 Pair of relievers and versatile infielder sign for 2017 season

(Photos courtesy of Joe Doll)

(York, Pa., March 1, 2017) - The York Revolution have announced three more signings for the 2017 season, bringing back right-handed relievers Jose Arredondo and Michael Click while adding infielder Angel Franco. The signings were announced by Revs manager Mark Mason Tuesday evening on "Revs Hot Stove Weekly presented by Shipley Energy" on SportsRadio 1350 WOYK.

Arredondo excelled as a late-inning reliever for the Revs in 2016, going 1-2 with a 2.25 ERA in 35 appearances. He allowed just 35 hits and 10 walks while striking out 38 in 36.0 innings. The 32-year-old has enjoyed a prolific Major League career, spending 2008-09 with the Los Angeles Angels and 2011-12 with the Cincinnati Reds.

Originally signed by the Angels in 2002, Arredondo enters his 12th professional season. He was a major contributor for the 2008 Angels squad that won 100 games and the American League West Division, going 10-2 with a 1.62 ERA over 52 appearances. Arredondo rebounded from Tommy John surgery in 2010 and regained his peak form, going 6-2 with a 2.95 ERA over 66 trips to the hill for the Reds in 2012. In four big league seasons, he sports a 22-11 record and 3.27 ERA over 214 relief appearances.

"We're excited to get him back," Mason said on WOYK. "I think the fact that he played winter ball and we can get him in here earlier this year at the beginning of spring training, that should make him even better than what we saw. Last year as the season went on, he just got better and better."

Click returns after going 7-3 with one save and a 5.25 ERA in 48 outings including two starts for the Revs in 2016. His win total fell just one short of matching a franchise record for most in a season by a reliever. The Media, PA, native struck out nearly a batter per inning (61.2 IP, 59 K), and allowed just 66 hits and 17 walks. The 28-year-old enters his fourth season in the Atlantic League, which includes two seasons in Camden. The former Temple Owl went 4-0 with a 3.53 ERA in 29 games for Camden in 2014 and was a dominant 5-1 with a 1.97 ERA in 2015. Click began his career in the Frontier League in 2011 and was a top closer on that circuit with Windy City in 2013, going 3-0 with a 0.90 ERA and 22 saves. Click is 25-8 with a 3.33 ERA in his pro career.

"For a guy with that fastball, that's a devastating velocity," commented Mason. "I think he could have one of the best years on our team."

Franco has spent his entire career in the Kansas City Royals organization, reaching Triple-A Omaha for a combined 100 games over the last two seasons. The nine-year veteran is a career .263 hitter with 23 home runs and 78 stolen bases and has batted .271 at the Double-A level, where he has spent the bulk of his time. The 26-year-old provides versatility as a switch-hitter at the plate, as well as with the glove. Known as an outstanding fielder, the Dominican native has appeared in more than 100 games each at shortstop, third base, and second base throughout his career.

"He was playing winter ball and they were using him defensively over some of the big league guys," Mason said. "This is one of the guys I'm most excited about. I think he'll be able to do a lot of things for us."

The Revs now have 12 players signed for the upcoming season and will continue to unveil preseason signings live each week on "Revs Hot Stove Weekly presented by Shipley Energy," with the next episode set to air on Tuesday, March 7, at 6:30 p.m. immediately following "The Baltimore Baseball Show" on SportsRadio 1350 WOYK.

About the York Revolution

The York Revolution Professional Baseball Club is a member of the Atlantic League of Professional Baseball. The Revolution were Atlantic League Champions in 2010 and 2011. The 2017 season will be the team's 11th. Located at 5 Brooks Robinson Way, PeoplesBank Park hosts all 70 home games, in addition to myriad events through the entire calendar year. For tickets or more information, please call 717-801-HITS (4487) or visit the Revolution online at www.YorkRevolution.com.

About the Atlantic League of Professional Baseball (ALPB)

The Atlantic League has been a leader in professional baseball and a gateway to Major League Baseball since 1998. Over 36 million fans have attended Atlantic League games and more than 800 players and 50 managers and coaches have joined MLB organizations directly from the ALPB. The Atlantic League emphasizes winning baseball games, showcasing the talent of top-caliber players and offering affordable family entertainment to metropolitan markets serving nearly 15% of the US population.

For more information, please visit www.AtlanticLeague.com.

###