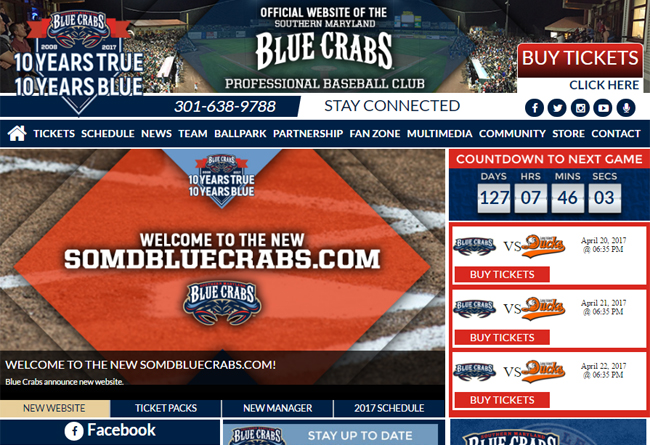 New website boasts easier navigation and eye popping design

(Waldorf, Md., Dec. 14, 2016) – The Southern Maryland Blue Crabs have unveiled the team's new official website on Wednesday. The revamped site was designed and crafted in partnership with Infinity Sports & Entertainment and the Blue Crabs to improve fan experience on the team's website.

The updated scheme is a refreshing change that boasts artwork surrounding the team's tenth anniversary. Pictures of the stadium, players and events from the past and present surround the site as fans navigate.

"We are very pleased with the outcome," said General Manager Courtney Knichel. "A great deal of man hours have been put into enhancing Crustacean Nation's official website. Fans will be thrilled with the new and improved site."

The website will feature an easy to use home page with quick links to purchase tickets on the top of the site and a listing of the next three games to come during the season. It is easier than ever to catch up on the latest updates with the news tab, the front page, and the official "Crustacean Confidential" blog.

For all of the Blue Crabs fans on the go, the new website features a mobile friendly layout as part of its 'responsive' design.

"Web design has taken many steps forward in the last decade since the team was founded," Knichel noted. "Our goal is to take advantage of these technologies and make our fans experience on our site a valuable and memorable one."

The Blue Crabs website can be located at www.somdbluecrabs.com.

About the Southern Maryland Blue Crabs

The Blue Crabs play 140 regular season games in the Atlantic League, considered the highest level of minor league baseball. The Blue Crabs play at Regency Furniture Stadium in Waldorf, Maryland. The franchise will look to open its 10th season on Thursday, April 20th, 2017. Please call 301-638-9788 or visit www.SOMDbluecrabs.com for more information and to reserve your seat at the ballpark today!

About the Atlantic League of Professional Baseball (ALPB)

The Atlantic League has been a leader in professional baseball and a gateway to Major League Baseball since 1998. Over 36 million fans have attended Atlantic League games and more than 800 players and 50 managers and coaches have joined MLB organizations directly from the ALPB. The Atlantic League emphasizes winning baseball games, showcasing the talent of top-caliber players and offering affordable family entertainment to metropolitan markets serving nearly 15% of the US population.

For more information, please visit www.AtlanticLeague.com.

###