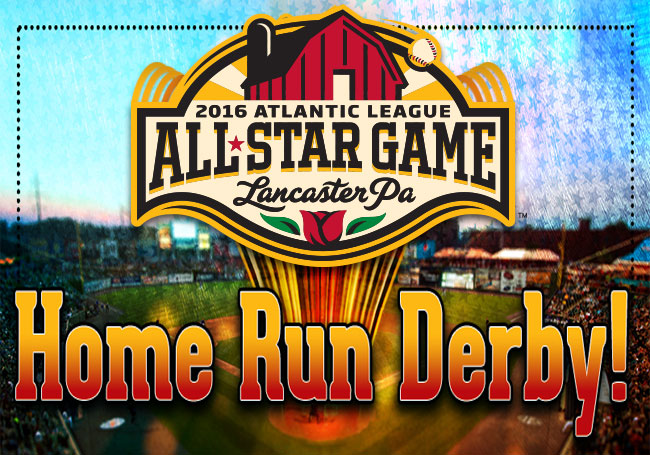 Bell seeks to win title on home field

(Lancaster, Pa., July 12, 2016) - Each of the eight Atlantic League teams will be represented in the 2016 Home Run Derby prior to the Atlantic League All-Star Game and Farm Show on Wednesday, July 13 at Clipper Magazine Stadium in Lancaster, it was announced today.

The host Lancaster Barnstormers have selected third baseman Josh Bell as their participant. The switch hitting Bell tops the 2016 Barnstormers squad with 10 home runs for the season.

Other contestants in the derby will be first baseman Jose Cuevas (Bridgeport), outfielder Anthony Vega (Long Island), designated hitter Craig Maddox (New Britain), first baseman Bryan LaHair (Somerset), outfielder Jamar Walton (Southern Maryland), catcher Travis Scott (Sugar Land) and second baseman Andres Perez (York). All but Cuevas and Perez are left-handed batters.

Each contestant will remain at the plate until 10 outs are recorded. The top four from the first round will compete again under the same rules, with no carryover of scores from the preceding round. From there, the field will be whittled to two to compete for the Home Run Derby crown.

The competition will begin at 5:30 p.m. Gates for the All-Star Game and Farm Show open at 5:00.

About the Lancaster Barnstormers

The Lancaster Barnstormers are in their 12th season as a member of the Atlantic League of Professional Baseball. Home games are played at Clipper Magazine Stadium in downtown Lancaster, Pennsylvania. Please call 717.509.HITS (4487) or visit www.LancasterBarnstormers.com for more information.

About the Atlantic League of Professional Baseball (ALPB)

The Atlantic League has been a leader in professional baseball and a gateway to Major League Baseball since 1998. Over 35 million fans have attended Atlantic League games and more than 800 players and 50 managers and coaches have joined MLB organizations directly from the ALPB. The Atlantic League emphasizes winning baseball games, showcasing the talent of top-caliber players and offering affordable family entertainment to metropolitan markets serving nearly 15% of the US population.

For more information, please visit www.AtlanticLeague.com.

###