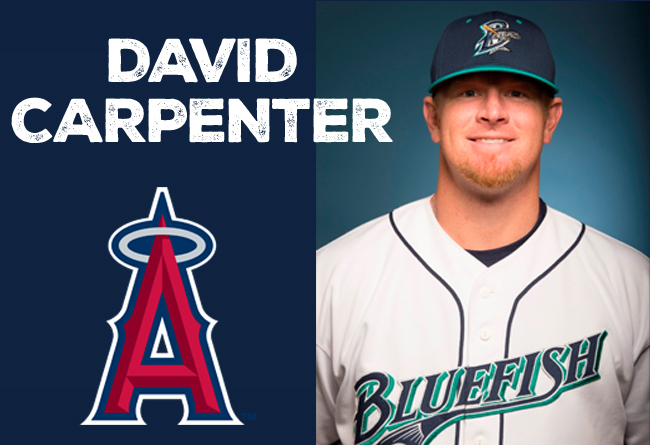 Bluefish pitcher David Carpenter signed by Los Angeles Angels of Anaheim

(Bridgeport, Conn., May 7, 2016) – Bridgeport Bluefish team officials today announced that pitcher David Carpenter has had his contract purchased by the Los Angeles Angels of Anaheim organization. He will report to Triple-A Salt Lake of the Pacific Coast League.

"David is a true leader both on the field and in the clubhouse, so it's great to see him receive this opportunity," says Paul Herrmann, Bluefish Senior Director of Baseball Operations and Public Relations. "The Angels are a great organization and we hope to see David make it back to the big leagues this season."

Carpenter has made eight appearances with the 'Fish this season, collecting 10 strikeouts in 8.0 innings and not allowing an earned run.

The 30-year-old made his professional debut in 2006 after being drafted by the St. Louis Cardinals in the 12th round of the MLB draft. He has five big league campaigns under his belt, with the Houston Astros ('11-'12), Toronto Blue Jays ('12), Atlanta Braves ('13-'14), New York Yankees ('15), and Washington Nationals ('15). In 218 career MLB outings, he owns 11 wins with a 3.92 ERA and 216 strikeouts in 211.1 innings of work.

Carpenter is the third Bluefish player to have his contract purchased during the 2016 season.

About the Bridgeport Bluefish

The Bridgeport Bluefish are members of the Atlantic League of Professional Baseball and play their home games at The Ballpark at Harbor Yard. For further information, call 203-210-BLUE (2583) or visit BridgeportBluefish.com.

About the Atlantic League of Professional Baseball (ALPB)

The Atlantic League has been a leader in professional baseball and a gateway to Major League Baseball since 1998. Over 34 million fans have attended Atlantic League games and more than 800 players and 50 managers and coaches have joined MLB organizations directly from the ALPB. The Atlantic League emphasizes winning baseball games, showcasing the talent of top-caliber players and offering affordable family entertainment to metropolitan markets serving nearly 15% of the US population.

For more information, please visit www.AtlanticLeague.com.

###