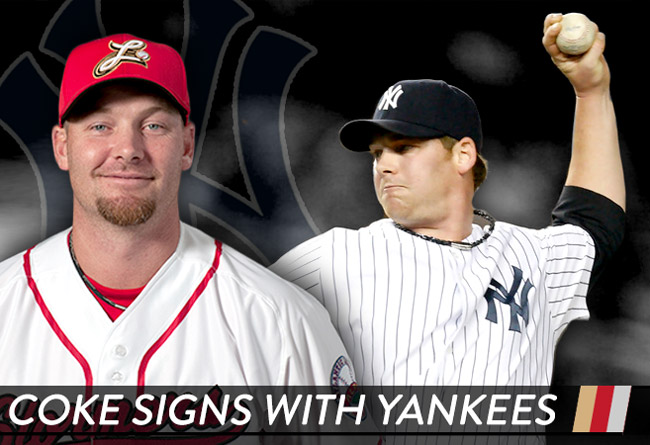 Lefty Heads to Class AAA Scranton

(Lancaster, Pa., April 26, 2016) - Phil Coke's stay in Lancaster was short.

The left-handed veteran of 401 Major League regular season appearances and 26 more in the playoffs has returned to where his career began, signing with the New York Yankees on Monday.

Coke, 33, made one start for the Barnstormers, throwing four innings in the second game of Saturday night's doubleheader at Southern Maryland. He allowed six hits and three runs, two earned, in his start against the Blue Crabs.

The native of Sonora, CA made his big league debut in 2008 with the Yankees, striking out Detroit's Curtis Granderson and Miguel Cabrera in his first inning. He stayed in New York through 2009, then went to Detroit in a seven-player, three-team deal that involved notables such as Granderson and Max Scherzer.

With Detroit, he appeared in a career-high 74 appearances in 2010. He remained with the Tigers through 2014. Last season, Coke appeared at the Major League level with both the Chicago Cubs and the Toronto Blue Jays.

"Phil is very intense and hard working," said Lancaster manager Butch Hobson. "But for someone with as much Major League service time as he has, he came here and fit right in."

About the Lancaster Barnstormers

The Lancaster Barnstormers are entering their twelfth season as a member of the Atlantic League of Professional Baseball. Home games are played at Clipper Magazine Stadium in downtown Lancaster, Pennsylvania. Please call 717.509.HITS (4487) or visit LancasterBarnstormers.com for more information.

About the Atlantic League of Professional Baseball (ALPB)

The Atlantic League has been a leader in professional baseball and a gateway to Major League Baseball since 1998. Over 34 million fans have attended Atlantic League games and more than 800 players and 50 managers and coaches have joined MLB organizations directly from the ALPB. The Atlantic League emphasizes winning baseball games, showcasing the talent of top-caliber players and offering affordable family entertainment to metropolitan markets serving nearly 15% of the US population.

For more information, please visit www.atlanticleague.com.

###