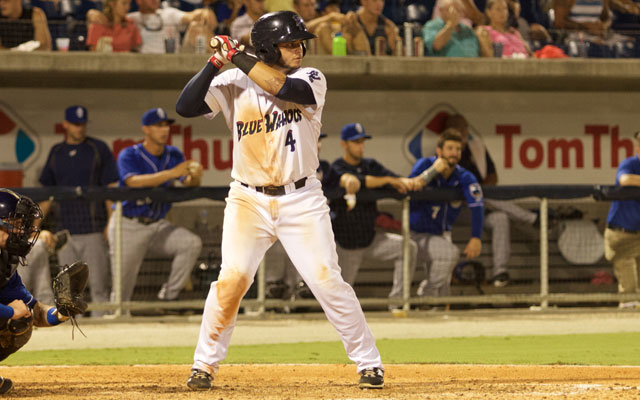 (Bridgewater, N.J., April 1, 2016) – The Somerset Patriots have announced the signing of catcher Yovan Gonzalez.

"I have heard [Somerset] is the best team to play within a great league like this one," Gonzalez said. "I heard they treat the players well, the ballpark is nice and the fans are great. Everyone says I am going to have a great time there. I am just excited to start playing again."

Gonzalez enters his first season with the Somerset Patriots and first in the Atlantic League. He has spent all seven years of his career in the Cincinnati Reds organization, reaching as high as Triple-A Louisville in 2013. Last year, Gonzalez played in 38 games with Double-A Pensacola, hitting five home runs with 14 RBI.

The Aibonito, Puerto Rico native has excelled defensively throughout his career. He has thrown out 36% of potential base-stealers (163-458) over his career, including two seasons (2009, 2011) of over 50%. Additionally, Gonzalez holds a career .989 fielding percentage behind the plate.

"We are anxious to get Yovan into camp and get our eyes on him behind the plate," manager Brett Jodie said. "We fell in love with Yovan after talking with him. He takes extreme pride in his defensive abilities as a catcher. He will work well with our pitching staff and make it tough on opposing base runners. Yovan has a chance to be a great player for the Patriots."

The 2009 draft pick from Wabash Valley College 15 home runs and 146 RBI over 383 minor league games.

The Somerset Patriots won their Atlantic League leading sixth championship during the 2015 season. Tickets are now on-sale for the upcoming 2016 season and the schedule can be viewed at www.somersetpatriots.com. For more information or to purchase tickets for the 2016 season, stop by TD Bank Ballpark, call (908) 252-0700, or visit www.somersetpatriots.com.

About the Atlantic League of Professional Baseball (ALPB)

The Atlantic League has been a leader in professional baseball and a gateway to Major League Baseball since 1998. Over 34 million fans have attended Atlantic League games and more than 800 players and 50 managers and coaches have joined MLB organizations directly from the ALPB. The Atlantic League emphasizes winning baseball games, showcasing the talent of top-caliber players and offering affordable family entertainment to metropolitan markets serving nearly 15% of the US population.

For more information, please visit www.AtlanticLeague.com.

###