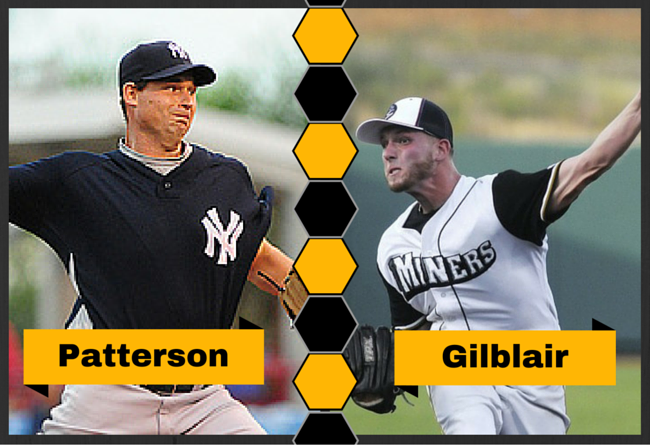 ECSU Grad Gilblair also signs with New Britain

(New Britain, Conn., March 31, 2016) – New Britain team officials today announced that the club has signed RHP Scott Patterson and LHP Shawn Gilblair for the 2016 Inaugural season.

The 6'7" 225 lbs. Patterson joins the Bees after spending last season with the Lancaster Barnstormers, posting a 2.19 ERA with seven saves and 43 strikeouts in 49.1 innings pitched. Prior to joining the Atlantic League, Patterson logged MLB service time with both the New York Yankees and San Diego Padres during the 2008 season. The veteran right-hander has a career total of 111 saves and 1013 strikeouts over 13 professional seasons at various levels.

Gilblair joins the Bees after spending 5 years playing independent baseball in the Can-AM and Frontier Leagues. Prior to his professional experience, Gilblair spent 4 years at Eastern Connecticut State University, and was named an ABCA Co-Player of the Year in 2009 after both pitching and serving as the Warrior's clean-up hitting designated hitter. In 5 professional seasons, the 28-year old has racked up 161 appearances with 22 wins and 327 strikeouts.

"We're excited to add MLB experience to our pitching staff with the signing of Patterson, as well as more local talent in Gilblair," said Bees' Manager Stan Cliburn. "Patterson gives us a great bullpen arm with a proven track record in the Atlantic League, and we're looking forward to having Gilblair's independent league familiarity on our roster as well."

About the New Britain Bees

The New Britain Bees are a member of the Atlantic League of Professional Baseball and will begin their inaugural season of play at New Britain Stadium on April 21 against the York Revolution. For further information or to become a season ticket holder, email [email protected] or call 860-826-BEES (2337).

About the Atlantic League of Professional Baseball (ALPB)

The Atlantic League has been a leader in professional baseball and a gateway to Major League Baseball since 1998. Over 34 million fans have attended Atlantic League games and more than 800 players and 50 managers and coaches have joined MLB organizations directly from the ALPB. The Atlantic League emphasizes winning baseball games, showcasing the talent of top-caliber players and offering affordable family entertainment to metropolitan markets serving nearly 15% of the US population.

For more information, please visit www.AtlanticLeague.com.

###